Memories from The Purple Jumper - Hyde Park 18 July 1970 - Why Are We Sleeping ? - N° 7 - February 1995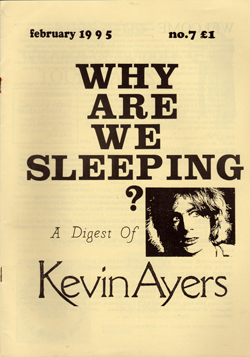 What an excellent article the David Bedford interview was in WAWS 6. In it David recalled the gig supporting Pink Floyd as one of the most enjoyable ones he played with "the Whole World". As a member of the audience I have fond memories of that concert too. It was the second time I saw Ayers live; though I use the word "saw" loosely.

I was" actually in a fairly pissed off frame of mind when I arrived at Hyde Park. I had had a bad week. I had been due to see Pink Floyd play a BBC "In Concert" the previous Thursday. It was with high expectations I had turned up with my precious ticket, queued patiently, and then had the door slammed in my face by a BBC jobsworth. I had then watched while various middle-aged men and women were allowed into the gig whilst me and a small group of disgruntled punters forlomly waved our tickets outside. It turned out later that the BBC had a policy (and for all I know still does) of issuing more tickets than there were seats in the theatre to ensure a full house. Thus if you were one of the poor sods at the back of the queue the chances were good you wouldn't get in. And of course being the BBC the last thing they were going to do was explain what was going on to a bunch of no good hippies. We later learned that the people being let in after the doors were shut were the brass section for "Atom Heart Mother". If only I had learnt the French Horn or something I could have gatecrashed. One woman did get into the theatre briefly by convincing the commissionaire she was Pink Floyd's wife.

Things had gone wrong the morning of the Hyde Park gig too. By a judicious series of cock-ups I managed to miss meeting all my friends and so I was sitting on my own. I had also arrived late and so the only way I could get anywhere near the stage was by sitting to the side of it, so though I could hear pretty well I couldn't actually see any of the bands.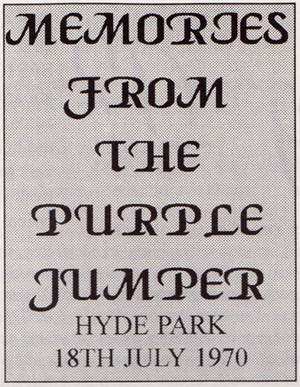 Early in the proceedings Lol Coxhill performed a solo set. DJ Jeff Dexter introduced him as "Lowell Coxhill" and you can hear Dexter apologising for this on the record. NB. Part of the Whole World's set at Hyde Park can be heard on Lol Coxhill's 1971 'Ear of the Beholder as A Collective Improvisation". To me, the first number he played sounded like he used the riff from "Set the controls for the heart of the sun" as a launch pad for his manaical playing. It was good to hear Lol playing to such a large audience and, considering the extreme nature of his music, going down so well.

He was on good form too when he came back with the band later. Kevin had Robert Wyatt on drums for this gig as well (it was Wyatt's debut with the Whole World - see Melody Maker news item from 18.7.70) as the usual stalwarts of Mike Oldfield, David Bedford and Lol. They played a most entertaining set. Coxhill and Bedford acted out their play Murder In The Air' over the riffing of 'We Did It Again'. The band also played 'Lady Rachel'. It surprises me in retrospect how little of Kevin's set at that time was culled from "Joy of a Toy". Presumably the band was put together to promote the then current Ayers album yet this was the only "Joy of a Toy" song I ever heard them play live. I think we can put this down to an admirable disregard for commercial concerns.

Kevin and Robert did a duet of "Hat Song". It culminated with Kevin singing "So you say you like any hat. you can have my hat" and flinging it into the audience. The only visual impact I received from the whole concert was seeing Kevin's hat sailing out of the stage into the crowd. It looked remarkably like the wide brimmed velvet hat that he wore on the sleeve of "Shooting at the Moon". Who knows it's probably a momento of some Ayers fan to this day.


The rest of the set included much of the material later to surface on "Shooting at the Moon". They played "May I", 'Clarence In Wonderland' and a great 'Rheinhardt / Colores para Dolores". Excellent music for a warm day in the great outdoors; lying on your back you could indeed verify that "Blue is the colour of sky".

Kevin and the Whole World finished with the usual finale of "Why are we Sleeping". Always a great number.

I would have to confess that though their music was suited to the occasion it was not the best time I saw the band; still, bearing in mind the next time I saw them play it was the best gig I ever saw, that is not surprising. The fact it was an outdoor gig meant there was a lack of the intimacy which I think Kevin's music really needs to thrive. Most of the crowd were just out for a day in the sun and couldn't have cared less who was playing. They were too indifferent to even sing along with "Out Demons Out" when the Edgar Broughton Band came on later.

However largely due to Kevin Ayers (though I had enjoyed Roy Harper's surprise set - despite someone lobbing a beer can at him during "I Hate the White Man" and was much relieved to eventually hear the Floyd do "Atom Heart Mother") I was much cheered up by the end of the day.

I still hate the BBC mind you!

Graham Weston