The Wilde Flowers - Record Collector N° 186 - February 1995

THE WILDE FLOWERS
THE WILDE
FLOWERS
MARK PAYTRESS LISTENS TO A SET OF FASCINATING ARCHIVE RECORDINGS FROM THE MOTHER OF ALL CANTERBURY BANDS
For years, the Wilde Flowers have been hailed as the founding fathers of the Canterbury Scene, which gave rise to groups like the Soft Machine, Caravan and Hatfield And The North, but there was never any recorded proof. A few ex-Garden of England groovers held fond memories of their shows in places like Whitstable and Margate, while ex-members like Robert Wyatt smiled vaguely about their pre-history. But one man, bassist, songwriter and future Soft Machine member Brian Hopper, had instant recall: he still had the tapes.


Now, almost exactly thirty years after the band's debut performance, those tapes are appearing on CD for the first time. Originally transferred onto tape by Hopper from a pile of well-preserved acetates, these recordings may sound a little scratchy, and are at least as primitively-recorded as you'd expect. They offer performances forged in the white heat of the beat revolution, if somewhat distanced from its epicentre. While the beat boom was fashioned primarily by a mix of rock'n'roll residue, R&B enthusiasts and opportunist light entertainers, the Wilde Flowers entered into pop sporting beatnik beards, spouting poetry and professing a love for modern jazz. In time, these factors underpinned the whole 'underground' ethic which swept the country during 1967, while three decades on, the arrival of their recordings on Voiceprint's "The Wilde Flowers" CD (VP 123 CD) adds an important piece to the British rock jigsaw.

So the Wilde Flowers have a lot to live up to. Some of them went on to become impor¬tant figures in the Soft Machine and Caravan. The mere mention of their name — carrying with it a whiff of Edwardian scandal and pre-psychedelic promise — emphasised their reputation as mavericks, quite possibly out of their heads and very probably ahead of their time. 'Tales Of Canterbury', Brian Hopper's accompanying 28-page account of the band's life, reveals that the truth wasn't always a match for hand-me-down legend — the band were no less opportunist than most, playing soul and Motown covers to meet the demand, and entering (and winning!) Battle Of The Bands-style contests. But as the music on the CD suggests (and Hopper's reminiscences con¬firm), the Canterbury dreamers were indeed a far cry from Freddie & the Dreamers.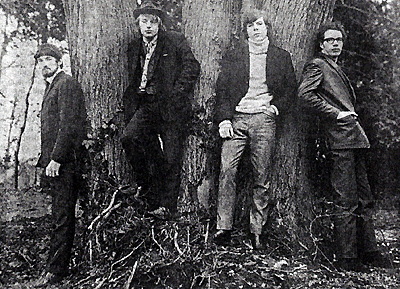 BEATLEMANIA

Founder member Hopper recalls that, as Beatlemania broke, he hated pop. He'd grown up with classical music, before discovering modern jazz and poetry as a teenager. And in the photos, the tell-tale signs are there — dark clothing, even darker shades, a beret worn half-cock, that jazz beard — the embryonic Wilde Flowers were card-carrying Beat boys.

The group started life on two tiers: the mid-teens Brian Hopper and Mike Ratledge were the elder statesmen, brother Hugh Hopper, Robert Ellidge (Wyatt) and their friends the "upstarts". When Ratledge took off to university in 1961, Hopper ditched his clarinet in favour of the saxophone and forged a musical association with Wyatt, centred upon a growing passion for jazz. A visit to the 2 i's coffee bar in Soho further widened Hopper's horizons, so much so that he began to write bluesy and Shadows-type material on his return. Some of this ended up on music publishers' desks and, presumably, from there, moved into waste-paper baskets. More importantly, when drummer Wyatt and the Hopper brothers (Hugh on bass, Brian on sax/guitar) began playing together, their jazz aspirations were increasingly augmented by a new desire to make instant music. "Eventually, the pop/rock thing became too big for us to ignore and it started to mould our ambitions," Hopper recalls.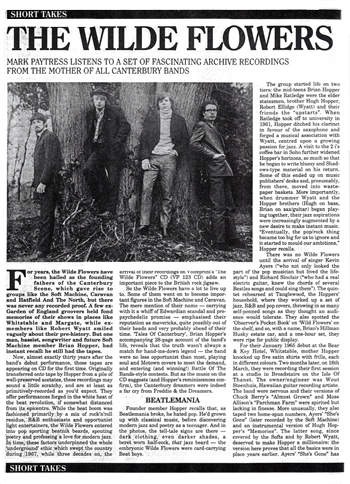 T
here was no Wilde Flowers until the arrival of singer Kevin Ayers ("who not only looked the part of the pop musician but lived the lifestyle") and Richard Sinclair ("who had a real electric guitar, knew the chords of several Beatles songs and could sing them"). The quintet rehearsed at Tanglewood, the Hoppers' household, where they worked up a set of jazz, R&B and pop covers, throwing in as many self-penned songs as they thought an audience would tolerate. They also spotted the 'Observer's Pocket Book' on Wild Flowers' on the shelf, and so, with a name, Brian's Hillman Husky estate car, and a one-hour set, they were ripe for public display.

For their January 1965 debut at the Bear & Key Hotel, Whitstable, mother Hopper knocked up five satin shirts with frills, each in different colours. Two months later, on 16th March, they were recording their first session at a studio in Broadstairs on the Isle Of Thanet. The owner/engineer was Wout Steenhuis, Hawaiian guitar recording artiste. The band were nervous and their versions of Chuck Berry's "Almost Grown" and Mose Allison's "Parchman Farm" were spirited but lacking in finesse. More unusually, they also taped two home-spun numbers, Ayers' "She's Gone" (later recorded by the Soft Machine) and an instrumental version of Hugh Hopper's "Memories". The latter song, since covered by the Softs and by Robert Wyatt, deserved to make Hopper a millionaire: the version here proves that all the basics were in place years earlier. Ayers' "She's Gone" has something of the Velvet Underground's "Live 1969" about the sound, though the voice is unmistakeably his. But any promise in that direction was thwarted when he quit some time later, leaving only an added 'E' (as in Oscar) to the Wild Flowers' name.

All four songs have survived on acetate and appear on the new CD. So do a further four, taped at a late summer session in Sellinge, a village just outside Canterbury. This time, the dubious vocal talents of one Graham Flight were on show, his slightly hysterical lines softly tempered by some reverb. He takes lead on the Bo Diddley-like "Don't Try To Change Me" and Brian Hopper's "Slow Walkin' Talk", and shares the spotlight with Wyatt (who's obviously written more words than he can sensibly cram into the song!) on the latter's moody jazz piece, "He's Bad For You". One final number, "It's What I Feel (A Certain Kind)", is familiar from the debut Soft Machine album, where it provides a tender climax to the first side. Again penned by gifted balladeer Hugh, it's not shown in its best light here, where Richard Sinclair takes his vocal bow with an hilarious wooden reading.





The Wilde Flowers Mk. II came to an end when Sinclair quit for art college, Graham Flight left because he didn't fit in, and Wyatt vacated the drum-stool to concentrate on his singing. With Richard Coughlan, a full-time dental technician, manning the sticks, the Wilde Flowers returned to Steenhuis's studio in spring 1966 with a more refined idea of what they wanted to do.

Brian Hopper's "Those Words They Say" wasn't a far cry from the ambitious kind of pop being tried out by groups like the Great Society in San Franciscan clubs — all choppy rhythms, interesting chords and 'interesting' (!) guitar solo. It was brother Hugh who was fast emerging as the group's leading songwriter, and while his "Time After Time" is clearly modelled on the Yardbirds, and the bluesy "No Game When You Lose" unsuited to Wyatt's voice, songs like "Never Leave Me", "Just Where I Want" and "Impotence" are not a million miles away from the Soft Machine's early demos. (Most of the songs on side one of Soft Machine's second album were written by Hugh during this period.)

In the meantime, the Wilde Flowers built up their live reputation, travelling to gigs in far-off locations and enjoying modest success. But towards the end of 1966, a certain restlessness was further ruffled by the return of Ayers and co-opted Canterbury scene stalwart Daevid Allen. And Wyatt, who'd been playing furious rock'n'roll covers with pianist Norman Hale, was wildly distracted. Brian Hopper: "He became more and more drawn to their experimentations until one day, during a Wilde Flowers rehearsal, he announced that he was going to quit to become a founder-member of what was to become the Soft Machine."

Despite the writing on the wall, this still came as a shock to the remaining Wilde Flowers. "It was more than the music," says Hopper. "It had become a family affair and one of the key family members was suddenly leaving home."

Into his place stepped Julian 'Pye' Hastings, a young, shy guitarist who'd already sat in with the band on several occasions. Revealing his talent for singing, he joined the group in time for the Radio London Rock Music Contest, held at the Dreamland Ballroom in Margate. The Wilde Flowers, with Wyatt deputising for the absent Richard Coughlan on drums, won the contest.



One of the songs performed that day was James Brown's "Papa's Got A Brand New Bag", indicative of the band's new emphasis, which was tailored towards a more commercial sound, including a steady diet of soul and Tamla covers. Brian Hopper switched from bass to saxes, Richard's cousin Dave Sinclair was recruited to fulfil the bass duties, but he turned up with a Vox organ, so Dave Lawrence (from local act Chaos), who was well versed with the soul repertoire, filled that post. This version of the Wilde Flowers was by far the most prolific in terms of playing live, working three or four nights a week during the first half of '67, but that increased workload meant there was little time for recording or experimentation and so there's nothing from this line-up on the CD.

Brian Hopper: "The group was like a diversion in the continuum between the early experimental music of Mike, Robert, Daevid, myself and others, and the later work with the Soft Machine and other bands. It was a diversion that conformed to fashionable trends and to satisfy our egos!" By June 1967, Hugh Hopper upped and quit. The following year, he replaced Kevin Ayers on bass in the Soft Machine. Pye Hastings and the Sinclair cousins began jamming together, and when Richard Coughlan joined them, that project became Caravan. Brian Hopper was left in Canterbury while his young pals helped shape British psychedelia and progressive rock.

That wasn't quite the end of the story. Some time in 1968, Brian took his first post-Wilde Flowers band, known alternatively as Globe or Zobe, into a studio in Whitstable, Kent. As we've already seen, the Wild Flowers weren't, averse to idiosyncracy in their choice of singers, and Globe/Zobe's Dave Lawrence unhappily joins that line. The three Brian Hopper-penned tracks on the CD betray some familiar WF traits (edgy time changes, nice chords), couched in a looser, jazzier style, like a pre-pubescent Quintessence.

More interestingly, on 6th August 1969, Hugh Hopper booked into Regent Sound Studios, London, to record some of his early songs as publishing demos. With Brian Hopper, Wyatt, Hastings, and the affiliated Mike Ratledge in attendance, the material was basically a Soft Machine set masquerading as a Wilde Flowers reunion, enacted with better sound, technical abilities and a relaxed air of confidence. The songs taped were "Impotence", "She Loves To Hurt" (that's apparently Pye doing the incredibly Wyatt-like lead vocal), "Memories" (with Ratledge's "Soft 3"-style keyboard touches) and "The Big Show", and all reveal just how far the Wilde Flowers — and rock in general — had progressed in such a short space of time.

For further details of the CD and the 'Tales Of Canterbury' booklet, which comes with the first 2,000 copies, write with SAE/IRC to Voiceprint, P.O. Box 5, Derwentside, Co. Durham DH9 7HR.