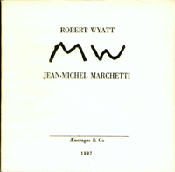 1997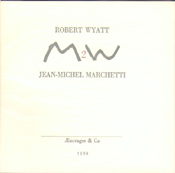 1998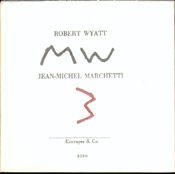 2000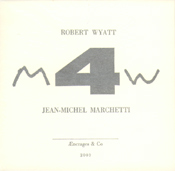 2003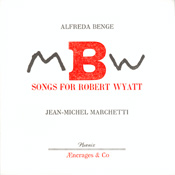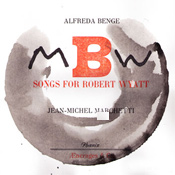 (tirage de tête)

2008
MBW
Songs For Robert Wyatt
68 pages - 1 000 exemplaires

- Forest
- Worship
- Shrinkrap
- Catholic Architecture
- The Sight of The Wind
- Heaps Of Sheeps
- Costa
- Alien
- Lullaby forHamza
- Lullaloop
- September The Ninth
- Cuckoo Madame
- A Sunday In Madrid
- Old Europe
- Out Of Season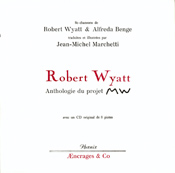 2009




Le premier volume MW paraît aux éditions Æncrages & Co en 1997, sous la double signature de Robert Wyatt et de Jean-Michel Marchetti. C'est un bel ouvrage dos carré, 20 x 20 cm, impression typographique, composé de textes de Robert Wyatt et de leur traduction française.

Chaque texte est mis en valeur par une composition graphique originale. Parfois, l'écriture manuscrite de Robert Wyatt, si reconnaissable, est elle-même mise en page, superposée à un autre texte ou à une illustration qui en fait rebondir le sens.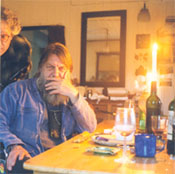 Jean-Michel Marchetti est peintre et photographe. Il expose depuis 1980. Outre les quatre MW réalisés en collaboration avec Robert Wyatt, il a illustré de nombreux textes d'écrivains de Roland Chopart, Charles Juliet, Philippe Claudel, Alain Lambert...

Il traduit également les textes qu'il met en page. Ce n'est pas une mince affaire. Comment faire passer dans notre langue toute la folie qui se dégage de Alifib/Alife ou la causticité de N.I.O ? J-M. Marchetti y parvient avec talent, et l'aide de Monique et Ceri Crossley ainsi que, parfois, celle de R. Wyatt en personne...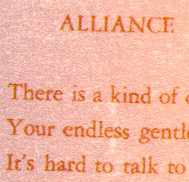 Et s'il y a des choses qui ne se traduisent pas" (Blues in Bob Minor), je le remercie de m'avoir aidé à percer le mystère du Little Red Robin Hood Hit The Road.

A l'occasion d'une rapide rencontre en novembre 2003, il m'indiqua qu'il envisageait de réaliser un cinquième cahier avec des textes d'Alfreda Benge mais qu'il hésitait encore tant ceux-ci étaient souvent remplis de double voire de triple sens, encore plus difficiles à traduire que ceux de son compagnon !




En 2000, la revue VISIBLE/LISIBLE publie dans son second numéro un extrait des 3 premiers MW avec une photographie originale de J-M Marchetti (12 pages - 60 exemplaires - Epuisé).


A partir du M2W, un CD audio accompagne chaque cahier: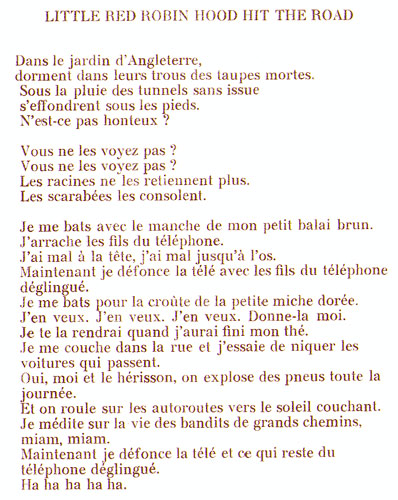 ... février 2008... J-M Marchetti publie enfin le recueil des textes d'Alfreda Benge dont il m'avait parlé en 2003. Tiré à 1 000 exemplaires, ce 5ème volume a failli ne jamais voir le jour.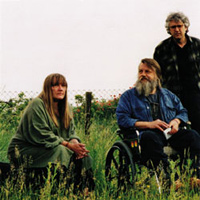 En mai 2007, l'ensemble du stock et du matériel d'impression d'Æncrages & Co qui avait alors publié près de 130 ouvrages, a brulé.

MBW - SONGS FOR ROBERT WYATT sera le premier livre courant édité après l'incendie, dans la collection Phoenix au nom prédestiné.






ANTHOLOGIE DU PROJET MW (2009)

C'est une idée un peu folle qui va devenir réalité: alors que les premiers volumes MW, tous épuisés, s'arrachent à prix d'or sur les sites d'enchères, les éditions Æncrages & Co décident de rééditer en offset et en un seul volume la totalité des 5 premiers ouvrages.


Anthologie du projet MW (que l'on peut commander ici) comporte en outre des traductions de Comicopera soit au total 80 textes en version bilingue français/anglais (238 pages) ,

accompagnés d'un CD de 8 pistes.



Sa sortie en mars 2009 sera l'occasion d'une performance Round About Robert W

réalisée à Baume-les-Dames

par Jean-Michel Marchetti et Pascal Comelade.





CD Anthologie du projet MW

- September Song
(K. Weill - interprétation de P. Comelade & R. Wyatt)

- Signed Curtain
(R. Wyatt / interprétation de P. Comelade)

-O Caroline
(D. Sinclair - R. Wyatt / interprétation de P. Comelade)

- Memories
(H. Hopper / interprétation de P. Comelade)

- Alifib 1
(R. Wyatt / interprétation de P. Comelade)

- Alifib 2
(R. Wyatt / interprétation de P. Comelade)

- Heaps Of Sheep
(B. Eno - P. George - R. Wyatt - A. Benge/ interprétations guitare et chant de R.V.D. Bosch + guitare - M. Slager avec les voix de A. Marchetti, L. Marchetti, B. Demonet et J.M. Marchetti)

- Entretien avec Robert Wyatt
Réalisé par J.M. Marchetti et R. Chopard.
Inclus:
The British Road lu en français par Philippe Fretun et British Road et Blues in Bob Minor lus en anglais par Robert Wyatt.

+ d'infos sur le CD



Octobre 2010: les éditions Æncrages & Co sortent un emboîtage pour l'ouvrage Anthologie du projet MW. Réalisé en typographie, dans le même papier vergé blanc que la couverture, il contient la liste des textes classés par ordre alphabétique.