Soft Machine - Uncut - The Archive Collection - 2019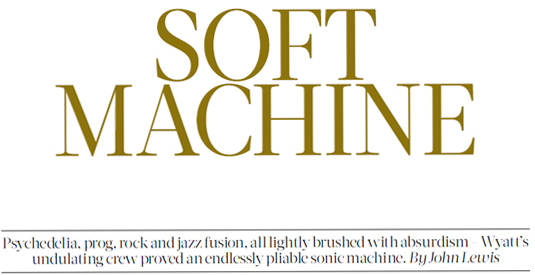 OFT MACHINE have been several different groups over the course of their existence – a freakbeat combo who morphed into pioneers of psychedelic whimsy; an experimental prog band who eventually became a rigorous jazz rock act. The bulk of their output has been instrumental, but they still managed to spawn three distinctive vocalists – Robert Wyatt, Kevin Ayers and Daevid Allen – who questioned the fundamental nature of Anglo-American rock music.

Uniquely among prog-rock bands, Soft Machine tended not to use guitars, but they've still managed to feature several of Britain's top guitarists – Andy Summers from The Police, fusion guru Allan Holdsworth and jazz luminary John Etheridge. And the band has been the seedbed for dozens of other hugely successful musicians – film composer Karl Jenkins, big-name saxophonists Elton Dean, Ray Warleigh and Theo Travis, and drummers John Marshall and Gary Husband have all passed through the band's ranks over the past half century.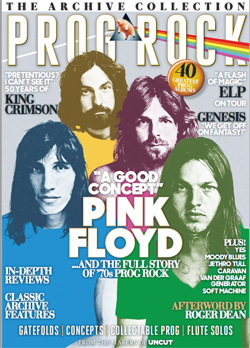 The band formed in 1966, from the ashes of the Daevid Allen Trio and the Wilde Flowers, featuring drummer Wyatt, bassist Ayers, Aussie guitarist Allen and organist Mike Ratledge. The only recording made by this quartet would be the February 1967single, "Love Makes Sweet Music" – a piece of charming freakbeat, not quite poppy enough for Ready Steady Go!, yet not quite freaky enough for the Summer of Love. Its flipside, "Feelin', Reelin', Squealin'", is closer to the hippie ideal, a piece of flute-drenched psychedelia featuring a growling baritone-voiced Kevin Ayers on the verses and a tenor-pitched Dadaist chorus from Wyatt. It would also be the last recording that the band would release featuring a guitar for nearly a decade.


An early live engagement saw them on the French Riviera, playing in a production of Picasso's outrageous, erotic play Desire Caught By The Tail and already displaying a fondness for jazz-inspired improvisation. Allen left the band on the way home – denied re-entry to the UK for overstaying the terms of his initial visa from Australia, he stayed on the Continent to form the Anglo- French outfit Gong – but his surrealist vision lived on for the first two Soft Machine albums. In particular was Allen's interest in the teachings of the French "pataphysicist" Alfred Jarry, an eccentric, proto-Dadaist prankster who counted Picasso, Gauguin, Duchamp and Oscar Wilde as friends.


The three-piece band's debut album, 1968's The Soft Machine, is a wonderfully endearing collection of skewed pop songs. It was played with a certain rigour that owed much to the band's contemporaries the Jimi Hendrix Experience (whom the band would support on a mammoth US tour that year), but Wyatt, Ayers and Ratledge all wore their experimentalism lightly – like Alfred Jarry, this was a band who were very consciously not taking themselves too seriously. "Why Am I So Short?" is a hymnal piece of Wyatt whimsy, "So Boot If At All" has a certain heavy rock swagger, with organist Mike Ratledge playing like a metal guitarist; "Why Are We Sleeping" prefigures early Blur; while "We Did It Again" is a hypnotic one-chord groove that anticipates the motorik krautrock that Can would be making a few years later. The album's highlight might be "Lullaby Letter", an angular proto-punk miniature with unusual chord changes that sounds oddly reminiscent of Nirvana, with Ratledge again playing a heavy metal solo on his Lowrey organ.




After the US tour with Hendrix (when Andy Summers briefly joined the band), Ayers left, to be replaced by the band's roadie Hugh Hopper, and the band regrouped to create the 1969 LP Soft Machine Volume Two, which takes the Jarry-esque absurdism of the first album into an almost symphonic dimension. The influence of the band's friends Pink Floyd is strong (Wyatt, Ratledge and Hopper had backed Syd Barrett on his 1968 solo debut, The Madcap Laughs). But the band also take a conceptual direction that owes much to Frank Zappa (apparently, on Zappa's recommendation, they split the album's two dominating suites into a shorter series of segued tracks to maximise on publishing income).





The first of these, "Rivmic Melodies", is a 17-minute suite filled with compelling shorter pieces. "Good evening, we now have a choice selection of rhythmic melodies from the Official Orchestra of the College of Pataphysics," announces Wyatt over a jazzy, loping groove, before launching into a Sesame Street-style recitation of the alphabet over a quirky melody (track four, "A Concise British Alphabet, Pt II", repeats the track with the alphabet recited in an entirely random order). Anchored by Ratledge playing suspended chords on the piano, often with him overdubbing buzzsaw organ riffs over the top, it's a thoroughly appealing album, and a fine vehicle for Wyatt's plaintive, mischievous choirboy tenor voice. "Dedicated To You But You Weren't Listening" is a lovely baroque ballad, while "Hibou Anemone And Bear" and "Orange Skin Food" both spin out into the kind of territory explored by Frank Zappa on Hot Rats, with Hugh's brother Brian Hopper playing harmonised solos on multiple reed instruments. Best of all might be "Hulloder", presumably written in the States, where Wyatt checks his privilege over the course of a lengthy, stream-of-consciousness ramble ("If I was black and I lived here/I'd want to be a big man in the FBI… but as I'm not/And because I'm free, white and 21/I don't need more power than I've got/Except sometimes when I'm broke").

The entire album is a cornucopia of ideas, any one of which could have seen them moving in a dozen different directions. The direction that they did end up taking, like many other jazz-loving rock musicians, was inspired by Miles Davis's album Bitches Brew. At the end of 1969, Wyatt visited a London jazz club where the pianist Keith Tippett was performing with his eight-piece, one that would later feature on his 1970 Polydor album You Are Here... I Am There. Wyatt was impressed by the horn frontline that lurched between tightly written harmonies and free improvisation. "We asked if we could borrow them to add spice to our distinctive but inflexible 'bees-in-abottle' sound and they generously agreed to help out," says Wyatt.

Elton Dean (alto saxophone), Marc Charig (cornet) and Nick Evans (trombone), along with Lyn Dobson (flute and alto) and Jimmy Hastings (flute and bass clarinet), were added to the Soft Machine lineup, forming a short-lived septet (Soft Machine weren't alone in their admiration of Tippett's band – King Crimson also hired Tippett, Charig and Evans around this time).

The resulting album, 1970's Third, turned out to be the way station between psychedelic prog and full-on jazz rock. Hugh Hopper's composition "Facelift" is a challenging and intriguing mix of ambient free improvisation and jazzy, high-pressure rock. It is a blend of two live performances recorded at Croydon's Fairfield Halls and then manipulated in the studio, Teo Macero-style, and subject to post-production tape loops. Ratledge's "Slightly All The Time" starts as a playful swing groove that moves into several stages and shifting time signatures; while the closing track, "Out-Bloody-Rageous", starts and ends with a nod to Terry Riley's A Rainbow In Curved Air, with overdubbed layers of organ creating a ghostly, hypnotic quality for the first and last five minutes of the track, sandwiching a jagged 7/4 groove that features one of Mike Ratledge's best fuzz-organ solos.

The album's penultimate track, Wyatt's "Moon In June", might be the band's masterpiece, but it was one that Ratledge and Hopper didn't particularly like. Wyatt sings a highly self-referential lyric that provides a running commentary of the recording process (the words would change when he performed the song live, at BBC Radio sessions, or at the Prom concert that Soft Machine headlined that summer). Wyatt plays drums, bass and keyboards for most of the track, his sparse approach reminiscent of his forthcoming solo albums like Rock Bottom. "Moon In June" could have augured a new era for the band as a Wyatt-esque conceptual pop group, but instead it became the band's last vocal track. 1971's Fourth sidelines Wyatt and it would be his last with the band. Hugh Hopper is the dominant songwriter, and many of the textures explored by the band start to become self-consciously jazzier. Roy Babbington joins the band on four tracks to play upright bass, complementing Hopper's bass guitar, while Ratledge puts his electric piano through a ring modulator – an FX unit popular with the likes of Herbie Hancock and Chick Corea. Elton Dean's first songwriting contribution, "Fletcher's Blemish", is a series of tightly written cued passages that are linked by free improvisation, consciously referencing Bitches Brew. Ratledge writes the bitty, fiddly "Teeth", while Hopper's "Virtually" is a four-part suite that moves between gentle harmonies and free-jazz freakouts. The waltzing "Kings And Queens" is a rare point of meditative peace on the album.

By the time of Fifth (1972), Soft Machine had fully morphed into a fusion outfit, broadly along the lines of Chick Corea's Return To Forever or John McLaughlin's Mahavishnu Orchestra. Wyatt had been replaced by two jazz drummers – Phil Howard on side one, John Marshall on side two – both playing with a weird degree of restraint. Ratledge had ditched his Hohner pianet, the clunky-sounding electric piano he'd used on previous albums, and started using a Fender Rhodes, feeding it through numerous effects units and enjoying its glossy, ethereal qualities on tracks like "M C" and the aqueous ambient jazz of "Drop". "All White" is a rigorous modal groove in 7/4, "Pigling Bland" is an episodic funk ballad, while "As If" is a fidgety and idiosyncratic piece of collective improvisation written by Ratledge.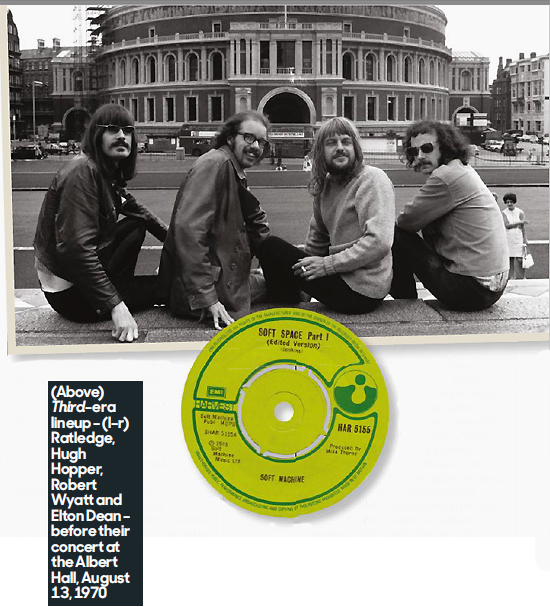 What becomes apparent is that, for all the meretricious playing, there is no-one in the band capable of acting as a Chick Corea or a Herbie Hancock. Ratledge is great at texture and at "comping" (providing inventive backing for others), and he could get away with playing simple fuzz-rock riffs on his wheezy, buzzy Lowrey organ in earlier incarnations of the band. But, as a classically trained pianist dabbling in jazz, his limitations as an improviser become apparent. Even the band's strong instrumentalists, like Elton Dean, seemed reluctant to really take the lead.

Dean left after Fifth to be replaced by multireedist Karl Jenkins from Ian Carr's Nucleus, who started to dominate the band on 1973's Six, a double album that mixes live and studio recordings. A voyage through enjoyably disorientating time signatures, "37 ½" features some impressive drumming from John Marshall; "EPV" and "Lefty" are both interesting ambient explorations featuring an FX-laden Fender Rhodes; while the funky groove of Ratledge's "Gesolreut" recalls Eddie Harris's "Freedom Jazz Dance", the soul-jazz standard covered by Miles Davis. The most memorable track on the studio album is "Stanley Stamp's Gibbon Album" a propulsive groove set around Ratledge's fugal piano riff. But it's the angular "Stumble" that sets out Jenkins' stall as a songwriter, and sets the tone for how the band would continue on 1973's Seven.

By now Hopper had left, to be replaced by Roy Babbington, and the writing is dominated by Jenkins, who pens seven of the tracks, specialising in simple, static and rather repetitive grooves like " Nettle Bed". "Carol Ann" is a pretty, spartan ballad, "Day's Eye" is a rigorous workout in 9/8, while Ratledge introduces a synth to the band for the first time – a modular analogue EMS model called the AKS.
It's tempting to see subsequent albums as an afterthought, but Bundles (1975) is a fascinating change in direction. Ratledge is increasingly sidelined – Jenkins is even starting to overdub keyboards – but the real USP is that the band have introduced guitar for the first time since their debut single. Where the sonic space usually occupied by guitar was filled by Ratledge's FX-laden keyboards, here Allan Holdsworth starts to dominate proceedings, playing with a John McLaughlin swagger on "Hazard Profile", showing an ECM delicacy on "Gone Sailing" and telling a compelling narrative tale on "Land Of The Bag Snake". Holdsworth would soon be lost to America (to join The Tony Williams Lifetime), to be replaced by the more introspective John Etheridge on the rather reflective and ambient 1976 album Softs.

Soft Machine have continued to exist, on and off, since then, as a legacy project – also known, variously, as Soft Ware, Soft Works and Soft Machine Legacy – drawing from an alumni of around 50 people and often featuring some very big names in British jazz (including John Taylor, Dick Morrissey and Theo Travis). But their repertoire concentrates almost exclusively on the mid 1970s incarnation of the band. There are dozens of fascinating iterations of Soft Machine that could provide fruitful territory for exploration.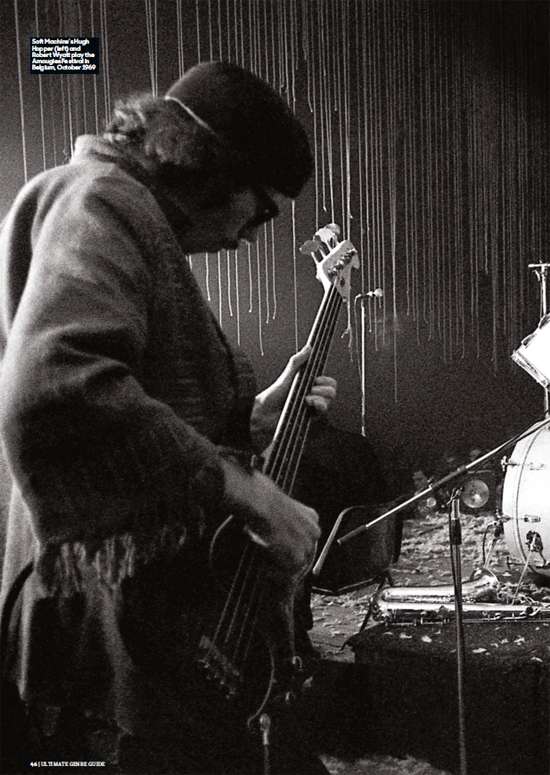 [ Below : this interview is also published here]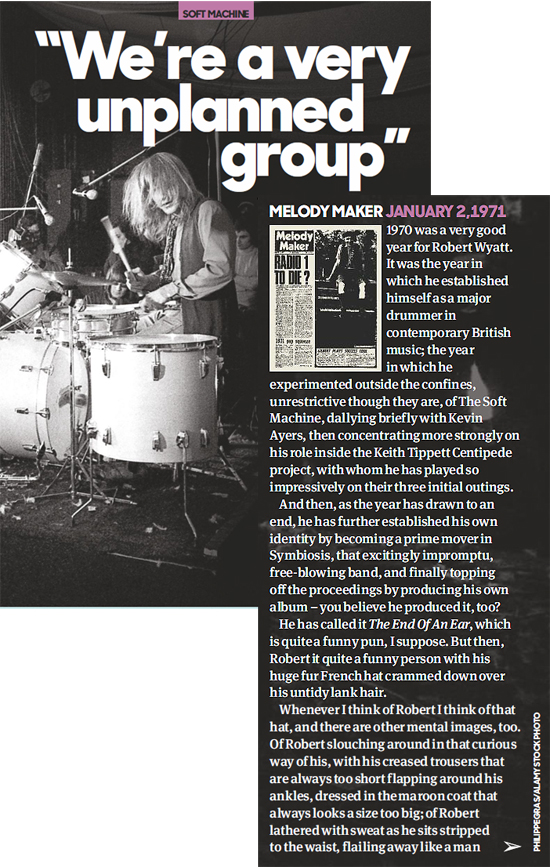 | | |
| --- | --- |
| | |
possessed under the hot lights of the Albert Hall during the Softs' televised concert; and then there is Robert sitting with bitter tears in his eyes in a dressing room in Rotterdam because he hates the performance he has just given.

Because, you see, he's nothing if not an emotional person. He is also nothing if not a nice person, and niceness is not an excessively common quality among musicians and entertainers. Much of the secret of his success is that people respond so readily to his spontaneity and generosity of spirit. Everybody wants to work with him, and when they have made the gig they come back for more. There was nobody happier and more elated amongst those 50 people in Centipede than Wyatt, and no one more brought down when the band received reviews that were generally cautious and, in one instance, bitterly hostile.

"I'm upset, not for my own sake," he explained later, "but for Keith and Julie." And he meant it.

How do you feel about interviews, Robert? "

I regret most I've done when I see what's happened, but then I regret most performances on records, too. I think one of the big difficulties is that written words and spoken words aren't the same thing. You actually think different things in print – I do. Things I say, words I use in speech, if I was writing down the same thought, I actually wouldn't use the same word. There's nothing anybody can do about that, really. It's misleading. I find I say things just to pad some things out, or to be clever for a minute while I'm trying to think what I really think. I can see the value of them, but I still find it makes demands... It upsets me sometimes, put it like that. But that's true of anything."

But Hugh [Hopper] and Mike [Ratledge] don't like interviews, do they?

"Well, Hugh is pathologically shy. Very. The fact that he goes on stage is part of it. You don't get up on your own, you get up with equipment and amplifiers and volume. It's very private on stage; it's not an exhibitionistic thing to do at all.

"People are often surprised at musicians and performers being introverts but it doesn't surprise me. What surprises me is that people who are extroverts are musicians. What amazes me is when a brilliant musician is an extrovert, because if they're extrovert it probably means that they spent their time in their teens rushing round coffee bars meeting people, and I'm surprised that they had the time to learn to play anything at the same time.

"Whereas I find that introverts are less social people, are very often the ones who learn to play instruments properly. The one way you can hide is to be a performer, because it's really a false identity to be on stage. You can really feel untouchable and private.

"The group has become primarily instrumental, for instance, because of our characters, in a way. We're a very unplanned group in our direction. We just sort of drift from whatever area seems to excite us at the moment to whatever other area seems to excite us. Even the simple things, like the gaps, the lack of gaps, is because we are embarrassed, I think, to have a silence on stage where the audience is expected to react back to us. I just find that totally embarrassing – ending a number, bang, then straight into the next one, all that business. I can't bear it."

You don't always appear happy with the group... What do you think it's doing wrong for you personally?

[Long pause] "All the things you can talk about in music we agree on. We all share similar ideas on the possibilities of freedom and the different types of freedom, and structure, and discipline, and what use they are, and when they're useful and when they are not, and how to cooperate, and still express yourself. But music isn't, like, conscious ideas, concepts, if you had them; the real music is the way you play, the actual note that you put after the note before.

"And quite simply, sometimes we aren't playing the same piece of music – the drumming isn't the drumming for the bass line that Hugh's using, or there's another bass line that isn't being played, or the rhythm section thing that should be with Mike's organ solo isn't because Hugh and I are somewhere else. The idea, after all, is not to create four pieces of music but one piece of music, and I'm upset on nights when we create four pieces of music."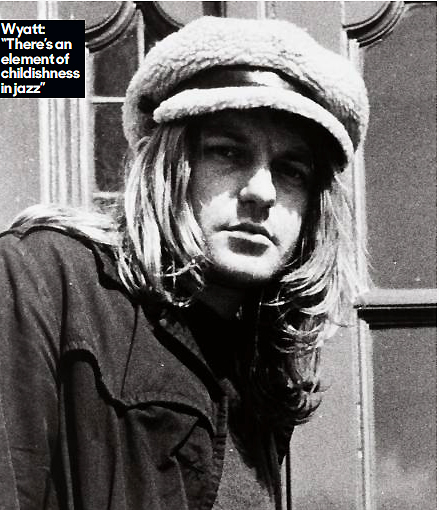 So what have you gained musically from the Symbiosis?

"Since the summer, since I've started playing with Kevin, I've realised that in other contexts there are things in me which come out and never seem to come out when I play with Soft Machine. It's not a question of quality at all, it's just a question of different situations demand different skills, and I hadn't realised just how much you do adapt and just play what seems necessary. I would be very loath to put a word to it and think of a concept which fits what I mean.

"All I know is that when I get on a kit, and there's Roy Babbington on me left and whoever it might be, Neville Whitehead or someone, and Gary [Windo] and Nick [Evans], that a whole different thing happens. I just lift up me sticks and immediately something else happens and different situations arise that would never arise with Soft Machine. I just play completely different things.

"Symbiosis is different people. All music is a cooperative thing, you see. Beyond all people's individual talent is a shared talent, which the music has. How to pin down the best relationship... European music sort of solidified in a way into an almost military hierarchy of composer, conductor and orchestra.

"What happens is, there's a kind of assumption that the type of person who conceives the music is a different kind of person from a performer – that's what European music assumes, although many great European composers have been virtuoso performers of their own work, and many great composers are great conductors. But generally speaking, this is a hierarchy that's accepted, and the fact is that in my opinion the most vital influence on music has been the black music of the past 50 years.

"The most interesting thing it seems to me, that has been suggested by black music, is that, as in, say, painting, the person who conceives of it and the person who plays it can be one and the same – combine both skills in one person. And this seems to me the most interesting, challenging thing that jazz music has come up with that European music doesn't really like to get to grips with. And what Symbiosis is, is a complete imbalance; in other words, we're all blowers without any of the composers, or when we do have composers – like Keith was with us the other night – he's not in a composing or controlling role at all.

"And so it's an incredible risk, Symbiosis every night, because we just turn up and play. The responsibility is enormous; you've got to be on form then and there because you're going to be doing all the composing and all the performing at the same time, and so is everybody else."

Would you agree that this seems to be a very interesting period for young jazz musicians and the thinking rock musicians? They really seem to be coming together.

"Well, Centipede is directly responsible for Symbiosis and so on. Yeah, I think so. For me, I find it staggering, and a bit scary, because it seems to me there's so much to do and so little to hide behind.

"There's a lot of knowledge and wisdom that's been spread around in the last four or five years. There's no excuse for certain types of musicians not knowing about other types. The standards are so high now! And the area of information you are expected to cope with! I think there's bound to be a lot of messy stuff of journalistic interest – interesting but disposable – but I think it's incredibly exciting. Short answer to your question – yes."

What do you think jazz people can learn from those musicians with rock references?

"That's interesting. Before I talk about it I think that if you think of it as a blanket thing you're in trouble; a band created out of generalised theories sounds like one to me, always. And a band made out of people who've met and work together well sounds like that as well. There can be as much difference in worlds between two so-called rock musicians working together, they can bring more completely different things to each other than a rock musician and a classical musician.

"If there are any general things, I think they're the obvious ones. Jazz musicians are now realising that there's nothing mature about consistently drowning out your bass player and pianist. There's nothing childish about getting your bass player and pianist heard, even if it means they have to play crude instruments such as bass guitar and electric piano. There's nothing essentially immoral or immature about it. The fact that rock musicians assume that you've got to hear the bass line – although very often they overdo it – seems to me an actual element of musical maturity in rock. There's an element of childishness in jazz. There's an assumption that jazz musicians can do all the teaching and rock musicians all the learning.

"If the soloist, for instance, is doing a development upon a harmonic sequence and you can't hear the harmonic sequence, so you don't know what the solo lines are referring to, then you lose the point of reference; you lose the lovely cosmic hum, if you'll pardon the expression; you lose the sense of well-being, you lose, actually, the music, and you just leave the ideas. It's an important thing in rock, the amplifiers and that, and instead of being rude about them, I think jazz musicians are realising more and more that they've got a very important function and that they're solving problems that can't be solved in any other way in the immediate future.

"And I think rock musicians can learn from jazz musicians. The most important thing they learn is that you can get a lot more out of music and put a lot more into it if you learn to play properly. Quite simply, jazz musicians are showing rock musicians that there's an awful lot of things you can do on a guitar and drum kits that aren't unnecessary or just technical fiddle bits – they just expand your language.

"In practice, most jazz musicians tend to me to be very involved in what they play – actually, the relationship between them and their instrument; and they've developed that to a very high extent – a man and his bass, a man and his alto, a man and his piano. And what rock has spent a lot more time doing than most of jazz is studying the actual effect and balance of what all these instruments sound like from the outside on a stage."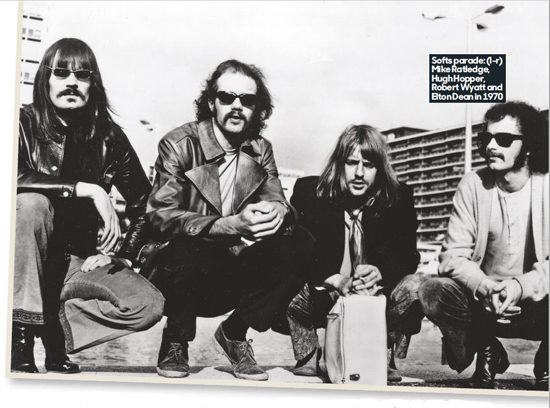 What do you think your strengths are as a drummer?

"Well, I suppose it's a bit late to say this, but I don't primarily think of myself as a drummer. I think of myself as a catalyst for the real musicians. How I see myself being most useful is getting people at it slightly more than if I wasn't there, or even getting them together and at it. If I was really into drums as an end I'd be sitting here practising. But I haven't got a practice pad! So long as I can play well enough to pin down what's going on and to emphasise the pace that's necessary.

"From the technical point of view I'm just nowhere, really. I've always felt a bit uncomfortable since we started. Basically, I came up to London to sing songs with Kevin [Ayers]. Five, six years ago. I'd done a lot of things before then that were instrumental, but by instrumental I don't mean jazz or rock. In fact, the funny way these discussions come to jazz and rock is that I don't see them as the two great sources from which musicians are drawing.

"A lot of my richest sources of inspiration come from not one musical idiom or the other but from paintings, and theatre and people's characteristics that you haven't seen come through in music."

But everybody is affected to a greater or lesser extent by every experience they encounter. Didn't you once tell me you'd learnt a lot by being told by Robert Graves, the poet, to leave home at 16 and make your own way in the world?

"Well, I lived with him in Majorca for a while, and he became my Mediterranean father in a way. He's happy to have me there, and I hadn't left school when I first went there, but he didn't want me to loaf about in the sun and just have a nice time and groove, which is virtually the state he's got to now, because he has the traditional attitude that he's done his homework, built up something, and now he's out in the sun finishing it off, so to speak.

"I hadn't earned it yet, somehow, and though there was great love abounding it wasn't one which had to be constantly backed up by me being there all the time or him coming here, just that he felt I had to go out and do it, and then when I'd got something that I'd done, maybe go back and see him again. And I haven't been back yet because I don't feel I've done anything yet that would stand up to his kind of standards."

So how did the tie-up with Graves originate?

"There's a bunch of friends there in the early '30s who'd gone out there – poets and writers – and their children, their grandchildren, got invited out there by the people who stayed on there – you know, the children of the people who went back to England during the war. And I'm one of them. He's no relation, though my father's first wife was his secretary.

"There's a kind of family of thinkers that my parents belonged to, and to a certain extent Robert Graves could be called the head of that family. He's a kind of distant tribal chief, though it's several generations removed. He had various fights with me dad, who died some years ago. My father at that time, he was a sort of brilliant young Communist layabout, really [laughs].

"He'd done various things. He'd got a degree in law at Liverpool, and then he did modern languages at Oxford, and then he got on to do psychology at Cambridge. A very bright bloke.

"He lived just long enough to realise that I wasn't going into university, which really disappointed him. He died in a state of anger at me, I'm afraid. But he was also a pianist, and that's definitely where I got my ideas from. The house was full of music.

"And Graves, he's incredible. There's a colony, a set, around him there. Mind you, I'm talking about when I was there, which was before The Soft Machine. I've got lots of friends who have gone back there. Kevin spent some time there. He got into Majorca as a place to live much more than I did."

So when you came up to London you were going to sing with Kevin?

"Yes, I think that was the idea; I didn't really know. I'd been through a period in my head very much like the stuff I'm doing now, although not technically, probably. The music I was listening to – had been listening to – was Sunny Murray, Milford Graves and Cecil Taylor, essentially. And Eric Dolphy, and Elvin Jones, of course. And I arrived at the point where I decided the simplicity of Kevin's songs, and the rightness and charm of them, had a fantastic appeal to me after a couple of years of Sunny Murraying and freak-out. And I'm now, I think, at a similar stage. I'm likely now to get into the stage that Chris Spedding has been through on his album. I haven't heard it, but what he's said about it I recognise, and I think a lot of us do.

"In fact, it's becoming a long syndrome in music – people going from complexity to simplicity. But I still feel very lost, actually. Sometimes I'm back where I started six years ago. I've to go through the cycle all over again now."