The Primer : Soft Machine - The Wire N° 232 - June 2003

THE PRIMER : SOFT MACHINE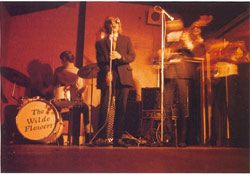 Pre-Soft Machine incarnation The Wilde Flowers on
stage in Canterbury, 1966




Common criticism of jazz-rock argues that it pursued the worst excesses of each genre, and caused irrevocable damage to both. Peter Schulze, who produced many jazz-rock concerts for Radio Bremen in the 1970s, recalls that during this time many jazz groups incorporated rock sensibilities, but far fewer rockers repaid the compliment. The outstanding exception was Soft Machine. At the height of their powers, this polymorphous British outfit achieved a complete synthesis of rock and jazz by drawing not on the excesses, but the strengths of both: raw energy, high volume, intricate time signatures, exemplary musicianship, expressive improvisation, gravitas and whimsy. To arrive at such a successful amalgam required a rare mix of alchemy and serendipity.

The journey starts in the early 1960s, in Canterbury, Kent, where grammar school friends Robert Wyatt, Hugh Hopper and Mike Ratledge bonded over a shared passion for the bop and free jazz of Charles Mingus, Thelonious Monk and Ornette Coleman. In early 1962 Wyatt befriended Daevid Allen, an itinerant Australian guitarist and Beat poetry aficionado. Allen became a mentor to the three friends, inviting them to join him in London for an event at the ICA performing free jazz and poetry in the company of Brion Gysin and William S Burroughs. Soon after, Allen moved to Paris to conduct tape experiments with Burroughs and the then relatively unknown Terry Riley, among others. Back in Canterbury, meanwhile, Ratledge left for Oxford to study philosophy; and Wyatt and Hopper formed The Wilde Flowers with Hopper's brother Brian, Pye Hastings, Richard and David Sinclair, Richard Coughlan and Kevin Ayers. A few Voiceprint compilations documenting the so-called Canterbury scene quickly scotch the legend about it being the UK's Haight-Ashbury, but they usefully reveal The Wilde Flowers as a not untypical local group - bar the odd jolt of free jazz - playing R&B and soul covers and originals. Allen eventually returned to Canterbury with unknown American guitarist Larry Nolan to rehearse with Ayers. The trio invited Ratledge, back from Oxford, and Wyatt to join them, leaving the rest of The Wilde Flowers to form Canterbury's other great mainstays, Caravan.

When Nolan left as quickly as he came, they went out as a quartet with Allen taking over on guitar, Wyatt on drums and vocals, Ratledge on organ, and Ayers on bass and vocals. After a mercifully brief spell playing out as Mr Head, in mid-1966 they renamed themselves The Soft Machine, after the Burroughs novel, with author's blessing. Although in the beginning Soft Machine worked from a song base, it was fed by two highly idiosyncratic writers in Ayers and Wyatt, while their penchant for improvisation meant they were soon taking their songs beyond the standard three minute pop barrier. About the only place the group felt any sense of belonging was in London's burgeoning psychedelic underground, which in its pre-"Itchycoo Park" period was a loose amalgam of heads open to all shades of weirdness.

Residencies at the UFO and Zebra clubs and extensive touring in the UK followed until July 1966. Outside London's head set, however, the group quickly ran into hostile, uncomprehending audiences with little sympathy for the Soft Machine brand of psychedelic revolution, which was founded on porous medleys of songs and jams at excessive volume. In the summer of 1967, they temporarily quit the UK for dates in France, only to lose guitarist Allen on their way back, when he was refused UK entry as an undesirable alien.



| | | |
| --- | --- | --- |
| Gong, pictured in 1971 in Hérouville, France, with Kevin Ayers (2nd left) and Daevid Allen (centre) | | Soft Machine touch down at the UFO Club, London, 1967 |


For the remainder of 1967, Soft Machine carried on as a trio. In January 1968, they departed for San Francisco to join Jimi Hendrix's US tour as support group. Before returning home, Soft Machine recorded their first album at the Record Plant Studios, New York. It was eventually released the following year, but only in the USA. Before it came out, Soft Machine had rejoined Hendrix for the winter leg of his US tour. The punishing schedule left the group exhausted, causing them to split up as soon as it was over. But with a two-LP contract to honour, Wyatt and Ratledge were persuaded to reform, recruiting Hugh Hopper on bass in place of Ayers, who had disappeared somewhere in Spain. In 1969, they fulfilled their contractual requirements by recording Soft Machine Volume 2.

The chemistry of this Soft Machine trio, experimenting with song segues and ever extending instrumental bridges at deafening volume, triggered the chain reaction that caused the tectonic plates of rock and jazz to shift, grate and collide. In an incredibly fertile three year span between 1969-71, Soft Machine concertina'd between three and seven members, as the core trio experimented with a horn section involving trumpeter Marc Charig, Elton Dean on alto sax and saxello, Lyn Dobson on soprano and tenor and Nick Evans on trombone. The horn section, minus Dobson, had been lifted piecemeal from another pioneering jazz-rock outfit: Keith Tippett's Sextet. Tippett was a jazz pianist who was already integrating rock sensibilities seamlessly into his music. His sextet had a fixed horn section, but employed the rhythm players best suited to his music's fast-changing demands. Tippett's bass pool included Jeff Clyne, Roy Babbington and Harry Miller, and the drum seat was filled by Phil Howard, John Marshall, Bryan Spring or Alan Jackson. Both Howard and Marshall were destined to replace Wyatt in Soft Machine, when the drumming vocalist was finally squeezed out of the group he founded by an instrumental faction which thought they were above or beyond mere songwriting. Babbington also collaborated with The Softs, eventually replacing Hopper. In the meantime, the impact of Miles Davis's Bitches Brew period on the rock world was sending ripples to British shores, which was echoed in the electric jazz of lan Carr's Nucleus, the third indispensable group of UK's great jazz-rock experiment, featuring a rhythm section of Jeff Clyne and John Marshall.

The music exploding out of this Soft Machine/Keith Tippett/Nucleus triangle was a powerful, often astonishing rock-driven fusion fired up on free impulses as it enthusiastically negotiated jazz's trickier time signatures. Between them, they opened up a space where the likes of Henry Cow crossfertilised with their oppositional rock Improv; where Soft Machine founder Daevid Allen located an audience for Gong's loopy synths, busking saxes an space rock silliness; where The Softs' Canterbury colleagues Caravan timidly raised the hemline of their post-psychedelic Prog whimsy, if only for a tantalising moment; where Hatfield And The North forged a thrilling, if shortlived, fusion-tempered rock just before the deluge of thrill-seeking second-string jazzers washed the excitement out of the jazz-rock adventure. But these are bit players of varying importance in this particular story. Besides, most of its principal players managed to engineer their own downfalls without any outside help. After six albums Soft Machine had shaken out the last of its experimental elements with the loss of bassist Hopper and reedsman Elton Dean, whose playing kept the free flame burning through The Softs' Third, Fourth and Fifth releases. Ratledge, meanwhile, sulked his way through Seven and Bundles (1978), Soft Machine's first record for their new label Harvest, and then quit the spotlight for a career in library music, apparently. By the time Karl Jenkins took the helm, Soft Machine had completely frittere away their earlier phenomenal ability to orchestrate monumental blocks of fuzz bass, organ and brass noise with wit and grace.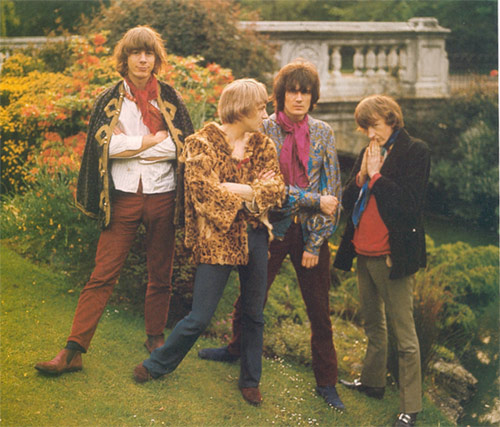 Soft Machine (Kevin Ayers, Robert Wyatt, Mike Ratledge and Daevid Allen) in Dulwich Park


With Jenkins doggedly running the franchise until 1981, Soft Machine accelerated the erosion of the group's reputation that had set in for real when Hopper left after Six. But in truth, the damage had begun earlier. Indeed, some argue it was seeded in the same impulses that drove them to become one of the heaviest, most powerful and at times pitiless innovative forces in any field at the dawn of the 70s. These peaks were attained at the great cost of Robert Wyatt's vocals and humane Iyrics, not to mention his inspired drumming. Fortunately, labels like Cuneiform, Voiceprint and, latterly, Hux have unearthed a rich vein of archive releases that attest to the group's astonishing power and capacity for change between 1967-71.

It is no coincidence that all Soft Machine's early absconders - Daevid Allen, Hugh Hopper, Elton Dean and Wyatt, both with Matching Mole and solo - went on creating absorbing music, while Jenkins made his mark on the charts in the 1990s with the execrable chill-out/Gregorian chant project Adiemus (which, incidentally, credited Ratledge).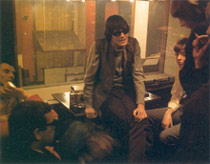 Recording at Olympic Studios,
February 1967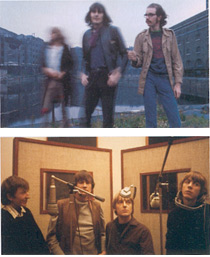 Wyatt and Ratledge joined by Hugh Hopper, 1971 ; Recording at Olympic Studios, February 1967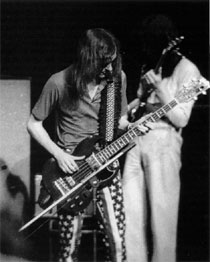 Matching Mole with Bill McCormick
on bass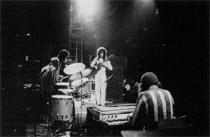 Matching Mole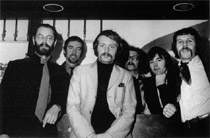 Nucleus with (left) Ian Carr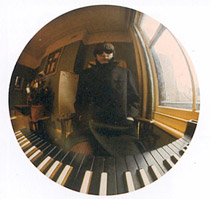 Fisheye frolics with Ratledge and Ayers
at the South London house where Soft Machine resided in early 1967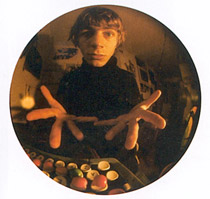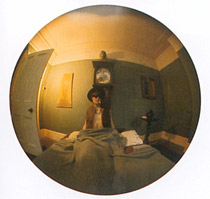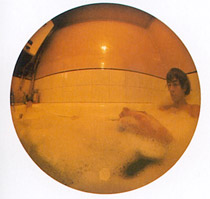 THE SOFT MACHINE
JET PROPELLED PHOTOGRAPHS
CHARLY SNAP133 CD 1967/1989

SOFT MACHINE TURNS ON VOL 1
VOICEPRINT VP231 CD 1967/2001
SOFT MACHINE TURNS ON VOL 2
VOICEPRINT VP234 CD 1967/2001

In April 1967, Soft Machine - here, Daevid Allen on guitar, Kevin Ayers on bass and vocals, Mike Ratledge on keyboards, and Robert Wyatt on drums and vocals - spent three days in De Lane Lea Studios recording with producer, impresario and entrepreneur Giorgio Gomelsky. Rumour has it the group thought they were making music publishers' demos, but Gomelsky insists they were there to record an album and took the tapes away with him. Years after the fact, these have disseminated under various different titles and compilations, and here as Jet Propelled Photographs. Its raw playing and sound quality argue that these were indeed intended as demos, but there's no mistaking the potential latent in the material, a good portion of it written when Ayers and Wyatt were still in The Wilde Flowers. Whatever, the group's unique approach to song stirs itself in early versions of Ayers's "Shooting At The Moon" and Hugh Hopper's "Memories" (later covered by Allen on 1971's Banana Moon and Wyatt on the B side of his surprise 1974 hit "I'm A Believer"). Though he's basically comping keyboard accompaniment, Ratledge's ear is finely tuned to the nuances of Wyatt's falsetto, tracking mood shifts as the vocal slithers between melancholy, heartbreak and slapstick punning. But Allen's playing ranges from rudimentary to just about competent. He has not yet evolved the shimmering glissando - an echoing, spacey bottleneck technique he devised after watching Syd Barrett - that distinguishes early Gong. Complementing his own thin, resilient vocals, Wyatt's careering drumming consolidates early Soft Machine's swinging proto-psychedelia.

The bootleg quality live recordings and studio demos constituting the two volumes of Turns On confirm the early potential of early Softs with and without Allen, but you have to listen hard to hear it. You have to weigh the significance of their handful of recordings from the Middle Earth club and elsewhere, documenting the group's participation in London's psychedelic underground, against the cruddy sound that renders it nigh impossible to divine the ways they were expanding the psychedelic bubble. Sadly, none of these sets include Soft Machine's only single, "Love Makes Sweet Music" (by Kevin Ayers), backed with "Reelin', Squealin', Dealin'" and released on Polydor in 1967.



THE SOFT MACHINE
THE SOFT MACHINE
ONE WAY RECORDS MCAD22064 CD 1968

VOLUME 2
PROBE SPB1 002 CD 1969


To all intents and purposes, Soft Machine's debut album was recorded live in the studio, with 'non-interfering' producers Chas Chandler and Tom Wilson. But they weren't being jazz-purist about it, and when they did indulge the odd studio intervention, such as a 'phased' drum solo zapping between speakers like a stereo demonstration record, they did so to glorious effect. Though they're still song-orientated here, their tunes are as much vehicles for the trio's dazzling instrumental interplay as vessels for the lyrics.

Ratledge's organ is bursting with ebullient energy, while Ayers has developed a keener balance of rebounding rhythm and bass-led melodies in the absence of a guitarist. Wyatt, meanwhile, is already incorporating 'found' lyrics and everyday speech patterns in songs like "Why Am I So Short?". But the highlights are "We Did it Again", an awesome exercise in numbskull minimalism hobbled to a riff every bit as compelling as The Kinks' "You Really Got Me" and Velvet Underground's "What Goes On"; and Ayers's mental wake-up call, "Why Are We Sleeping?"

With Ayers retired hurt after their two 1968 American tours, Wyatt and Ratledge recruited bassplaying roadie Hugh Hopper to make Volume 2. Now their sole vocalist, Wyatt is in fine form throughout, scatting through " A Concise British Alphabet" and his more complex wordgames. Ironically plummy sleevenotes claim, "in general everybody's heads are more together" and that the music "may impose cerebral responsibilities on the listener".Too true.

The early Soft Machine sound is a minefield of contradictory elements. Wyatt's drumming is magnificent from the outset: confident, strident, polyrhythmically complex and refreshingly unpredictable. And he's already a wonderfully enigmatic singer, his expressive falsetto negotiating Iyrical passages of intellectual realism, elegiac frailty and absurdist improvisation. At this stage, Ratledge is the most technically advanced player and his organ work is as concise as it is magisterial. The departure of both Allen and Ayers had precipitated the group's move into extended improvisation. Upon Hopper's arrival this direction was sealed. With additional saxophone input of Brian Hopper, Soft Machine were steadily moving away from song qua song.



SOFT MACHINE
SPACED
CUNEIFORM RUNE90 CD 1969/1996


A fascinating digression more than their next move, Spaced occupies a unique position within The Softs' output. Resulting from an invitation to produce music for artist Peter Dockley's 'living art installation' at London's Roundhouse in early 1969, the group declined to perform live (although they had famously accompanied a Picasso play in the south of France a year or so earlier). Instead they duly set about amassing prerecorded material to cover for their non-happening at the happening, so to speak. Brian Hopper was again drafted in to add a horn voice. Rehearsed and recorded in an East London warehouse, the finished soundtrack was constructed around loops and effects, and cut together with engineer Bob Woolford using distinctly Heath Robinson methods like looping tapes around milk bottles. The ad hoc methodology produces a distinctive musique concrète feel, with the resulting tonescapes anticipating the textures of Ambient.



SOFT MACHINE
BBC RADIO 1967-1971
HUX HUX037 2XCD 2003

BACKWARDS
CUNEIFORM RUNE170 CD 1969/2002

Both these live compilations illuminate how Soft Machine were far better live than in the recording studio, even if the only audience actually present was a radio engineer. Covering the eight sessions the group recorded for John Peel's BBC Top Gear show, the Hux set spans every significant incarnation of the group after Daevid Allen's departure, including their septet experiments with an expanded brass frontline borrowed from Keith Tippett. On Hux's evidence, Peel and his producers had a knack for catching the group on the cusp of change, and happily gave The Softs free rein. Even though Wyatt ironically comments on the necessity of shortening tracks to standard pop length in his amazing stream of consciousness rendition of "Moon In June", their song medleys mostly break the ten minute mark. Even so, the group exercise remarkable economy in their Peel contributions, making the Hux set a wonderful summary of Soft Machine's growth from their 1967 summer of love to the colder mausoleum monumentalism that prefigured Wyatt's departure in 1971. Wyatt has commented how he got interested in the idea of writing songs where the melody line followed the pattern of everyday speech. Thus, in this legendary version of "Moon In June, "I can still remember/The last time we played on Top Gear/And though each little song/Was less than three minutes long/Mike squeezed a solo in somehow/And although we like our longer tunes/lt seems polite to cut them down/To little bits/They might be hits/Who gives a... after all. "

Backwards collates live material from various UK and European dates, including some septet tracks from Paris in November 1969, and a demo recording of "Moon In June" by Wyatt solo. Its solitary nature evidences Wyatt's increasing sense of alienation, as The Softs' power base shifted.



THE KEITH TIPPETT GROUP
YOU ARE HERE... I AM THERE
DISCONFORME DISC1963 CD 1969

DEDICATED TO YOU, BUT YOU WEREN'T LlSTENING
AKARMA AK227 CD 1971


Pianist Keith Tippett's first album unequivocally laid the ground rules for his particular jazz-rock agenda. With all the material written by him, the album has a satisfying continuity. More importantly, this is composition of the highest order: measured and balanced in his positioning of instruments to give maximum dynamic effect. The pieces unravel slowly, with Tippett gradually introducing rock-flavoured influences, while the playing throughout is forthright and sometimes openly aggressive. E Even at this early stage in Tippett's development, the integrity of his thought process makes any reference to specific forms superfluous, be they jazz or rock. The second track "I Wish There Was A Nowhere" introduces a repeated vamp over which Elton Dean weaves an accomplished alto solo, while trumpeter Charig and trombonist Evans supply swelling chordal overlays. Bassist Clyne and drummer Jackson build a mesmeric pulse over the 14 minute duration of the composition.

If Tippett's debut album is impressive, ranging from fractured avant gardism to pulsating repetition, Dedicated To You is, quite simply, indispensable. The compositional credits are more evenly dispersed here, with Evans, Dean, Hopper and Charig aIl contributing. From the outset the album is a rhythmic maelstrom, utilising drummers Wyatt, Phil Howard and Bryan Spring as well as conga player Tony Uta. Spontaneous joy is the result, with Charig and Evans in particularly raucous mood, melding free jazz and rock sensibilities even as they boil to the surface in a fierce bid for independence from each other. Tippett's writing is so integrated, however, that these competing elements are never allowed to rip the piece apart. Instead, they generate a terrific and continuous tension. "Thoughts To Geoff" illustrates this perfectly, with Evans contributing explosive trombone, while Dean's saxello solo on "Green And Orange Night Park" is worthy of Roland Kirk. Tippett, meanwhile, ranges aIl over acoustic and electric pianos to great effect.



SOFT MACHINE
THIRD
COLUMBIA 4714072 CD 1970


The third studio album is The Softs' most complete statement of intent. It was originally released in 1970 as a double LP, with a side each given over to Hopper's "Facelift", Ratledge's "Slightly AIl The Time", Wyatt's "Moon In June" and Ratledge's "Out-BloodyRageous". "Moon In June" is pretty much a solo Wyatt recording, except for Ratledge's fuzzily scrawled organ signature towards the end. Wonderful as it is, it suffers in comparison with the full group's inspired response to the same piece on the Hux BBC Radio set. On Third, the absurdist element that once defined Soft Machine's group character has been all but ousted by the Ratledge-Hopper axis's heavily pedalled emphasis on fuzzed-up jazz-rock with horn charts, with new recruit Elton Dean's alto and saxello mostly displacing Wyatt's vocalising. The sacrifice of his voice does not preclude Wyatt bringing the relentless swinging energy and invention of his drumming to Ratledge's and Hopper's splendid side-Iong compositions. Recorded live at Birmingham's legendary Mothers club and Croydon's Fairfield Hall, Hopper's "Facelift" rises out of a circling electric piano rondo, until it's abruptly halted by Ratledge's heavily fuzzed organ squalls. Gradually Dean works up the courage to begin a conversation for the whole quartet. The core of Ratledge's loveliest composition, "Slightly AIl The Time", is Hopper's fabulous walking bass part. The organist's other track, "Out-Bloody-Rageous", bursts into being out of endlessly circling keyboards and swooping sax squeals, with an augmented brass section pitching precarious choruses between Dean's and Ratledge's grandstanding.



ROBERT WYATT
THE END OF AN EAR
COLUMBIA 4933422 CD 1970


Describing himself on the sleeve as an "out of work pop singer", Wyatt was still Soft Machine's drummer when he recorded this first solo statement in 1970. Though it's a predominantly vocal album, with Wyatt playing "drums, mouth, piano, organ", he's got anything but pop on his mind. The album's two takes of Gil Evans's "Las Vegas Tango Part One" are the closest he gets to actual song. Otherwise the music centres on Wyatt's astonishing montages of his multitracked vocal scatting. Mark Charig and Elton Dean provide multitracked horn and sax treatments, Mark Ellidge and Caravan's David Sinclair contribute piano and organ, but the fascination here is the way Wyatt overdubs his many discrete parts into an uneasy and frequently heartbreaking interrogation of his role as a singer in a group that claims to have outgrown the song.


SOFT MACHINE
NOISETTE
CUNEIFORM RUNE130 CD 1970/2000
FACELIFT
VOICEPRINT VP233 2XCD 1970/2001

Noisette is sourced from the same recording of The Softs' January 1970 concert at Croydon Fairfield Hall from which "Facelift" was partially lifted for Third. Here they went out as a quintet, featuring Lyn Dobson's soprano, fIute and vocals. At this stage, The Softs were restlessly seeking new elements to keep themselves fresh, and here the trio respond well to the evident empathy already existing between Dobson and Dean.

When they returned to Croydon just three months later on the Facelift double, they had already reverted to their standard 1970 quartet. Captured on an audience recording made by Hugh's brother Brian on a failing portable cassette player, Facelift nevertheless offers today's listeners an accurate impression of how the group must have sounded from 'out front'. The music's so monstrously good, it's almost terrifying. The quartet throw up stock repertoire props, only with all the supports removed. The way they race around shoring up these towering and teetering compositional blocks with improvised bridges is astonishing. Soft Machine's rehabilitated reputation is largely founded on this pair of releases.



KEVIN AVERS
JOY OF A TOY
EMI 5827762 CD 1969

DAEVID ALLEN
BANANA MOON
CAROLINE C1512 CD 1971


These early solo albums by two founder members underline how a long and happy life in Soft Machine wasn't really on the cards for either of them. On Ayers's irrepressible debut Joy Of A Toy, the first of a great trilogy that included Shooting At The Moon and Whatevershebringswesing, Wyatt drums on most tracks and both Hugh Hopper and Mike Ratledge contribute; but it's in no way a cloned Soft Machine album. Ayers's songs are beautifully arranged throughout by pianist/composer David Bedford, with Paul Buckminster on cello, Paul Minns on oboe and Jeff Clyne on double bass. The album's hazily surreal pastoralism veils Ayers's deeper interest in articulating his Gurdjieff-inspired attempts to awaken humankind from its slumber. Well, this was 1970 and Ayers wasn't the type to take umbrage if everyone snoozed through the message. For Shooting At The Moon, Ayers put together a ramshackle improvising group to rattle the symmetry of the earlier album's arrangements. His group The Whole World turned around Bedford, Lol Coxhill on saxes and 'zoblophone', Mike Oldfield on bass and guitar and Mick Fincher on drums. His earlier jazz influence rears up in crudely effective see-sawing rock improvisations to terrorise fans of his sweeter songs, like the charming opener, "May I?".

Daevid Allen's solo debut Banana Moon is simpler but no less inspired. Wyatt is again present on drums, and by now Allen's lead guitar is a little more accomplished. You can tell how far he's come by contrasting this album's version of Hugh Hopper's of "Memories", also featuring a poignant Wyatt vocal, with the same song on Jet Propelled Photographs.
Now taking it at a slower pace, Allen brings out an
elegiac quality beyond the young, blushing Soft Machine's reach. All the other songs are Allen's own.



SOFT MACHINE
FOURTH/FIFTH
COLUMBIA 4933412 CD 1971 & 1972

VIRTUALLY
CUNEIFORM RUNE100 CD 1971/1997


Fourth is Wyatt's last outing with the group he founded and squired through their difficult years. It's no coincidence that it is The Softs' most overtly jazz album. You can put this down to Elton Dean's growing influence, and it's his exuberant playing that largely determines the character of the album, even though he, like Ratledge, only contributes one composition, compared with Hopper's pair: the side-Iong "Virtually" suite and "Kings And Queens". Again, Charig, Evans and Hastings fill in brass ensemble interjections, and this time they're joined by the tenor sax of Alan Skidmore. If Fourth's overall balance represents a step forward from Third, with Ratledge's electric piano much in evidence, it's not immediately clear exactly what they gained with that advance. For all the brass frontline's free bluster, it's Hopper's compositional Iyricism that shines through this album. Wyatt might have been muted, but his drumming is simply sublime throughout. Even so, the album's momentum is all but severed from the group's psychedelic rock roots. For the first time, The Softs sound less themselves and more like Keith Tippett's group. Jazz now prevails.

Fifth is hinged around the two drummers who were auditioned for Wyatt's vacant chair. Phil Howard and John Marshall got a side each on the original vinyl LP, and the music correspondingly vacillates between their opposing styles. Roy Babbington is once again in evidence on double bass. Howard is an incredibly exciting drummer with free music propensities, who promised much in his shortlived tenure. Sadly, he wastes his energies driving the group into a free Improv corner that no one else particularly wishes to inhabit. John Marshall, on the other hand, is a more precise timekeeper. His side of Fifth is altogether more disciplined and less spirited.

Virtually is a pristine recording from the vaults of Radio Bremen that captures the classic Wyatt-Ratledge-Hopper-Dean quartet in its final stages. It offers live renditions of "Teeth", "Kings And Queens" and a truncated "Virtually". More intriguing are the early versions of "All White" and "Pigling Bland" (from Fifth), which suggest how that album might have turned out had Wyatt stayed on. But by this point the group's internal power struggles have resolved themselves in Ratledge's favour, and though Wyatt sings, the set is curiously introverted, as if the group are playing it as a private rite of passage sounding an elegy for their own doomed youth. Under the shadow of such composerly sobriety, Dean's freeblowing tendency has also been brought in for questioning.



ELTON DEAN
JUST US
CUNEIFORM RUNE103 CD 1971


He was ousted soon enough. Dean's recently reissued solo debut provides clear evidence of his indomitable free spirit. Here, the emphasis is on fiery improvisation over Phil Howard's flailing polyrhythms of a kind that no longer fitted Soft Machine's masterplan. Dean augments his core trio of trumpeter Charig, bassist Neville Whitehead and Howard with contributions from Mike Ratledge and future Softs bassist Roy Babbington on two tracks. Further, Just Us reprises Soft Machine's "Neo-Caliban Grides" in a set otherwise spontaneously 'composed' in the studio. Relishing such spontaneity, his playing throughout is exemplary.



NUCLEUS
ELASTIC ROCK/WE'LL TALK ABOUT IT LATER
BGO BGOCD47 CD 1970

THE PRETTY REDHEAD BBC SESSIONS
HUX HUX036 CD 1971-82/2003

LlVE IN BREMEN
CUNEIFORM RUNE173/174 CD 1971/2003


Trumpeter and Miles Davis biographer lan Carr formed Nucleus with the intention of electrifying jazz-rock, and Elastic Rock more than fulfils his sonic vision. Carr's cool, muted trumpet and mellow flugelhorn combine with the meandering soprano of Karl Jenkins, who also plays electric piano to great effect, and Brian Smith's tenor. Their unison playing is dramatically offset by the tension created by guitarist Chris Spedding. Driven by the outstanding rhythm section of Marshall and Clyne, their impact is as immediate as rock.

Spedding's 'slack' style of elongating chords and phrases made him a much sought-after session player, but he still constituted part of the stable lineup that recorded its successor the following year. We'll Talk About It Later consolidates the group's pole position in jazz-rock. Nucleus's approach to fusion is cooler than Soft Machine's, and their more sophisticated arrangements are directed towards ensemble unity. At this stage, that ambition doesn't inhibit their ability to rock, however, and Spedding even adds a certain funkiness. But it's Carr's clarion brass that directs Nucleus's forward momentum, leaving Jenkins and Spedding to alternate spiky interjections of guitar and electric piano behind his and Smith's precision soloing.

Recorded in 1971 for BBC's Jazz London, Hux's radio set reveals Nucleus weren't the kind of guys to let it all hang out live. On the double Live In Bremen, Spedding is replaced by guitarist Ray Russell for a set drawn from their first three albums.


MATCHING MOLE
MATCHING MOLE
COLUMBIA 5054782 CD 1972
MATCHING MOLE'S LITTLE RED RECORD
COLUMBIA COLM4714882 CD 1972
SMOKE SIGNALS
CUNEIFORM RUNE150 CD 2001
MARCH
CUNEIFORM RUNE172 CD 1972/2001

Matching Mole was a Robert Wyatt solo project until CBS pressured him to form a group to promote it. Named by distorting the French for 'Soft Machine' ('Machine Molle'), and made up of old Canterbury mates David Sinclair (keyboards) and Phil Miller (guitar), plus Bill MacCormick (bass), Matching Mole weren't about to interfere with Wyatts original intention to record "an album of love songs". Much of it largely features his melancholy musings at the mellotron he found in the studio. He stretches that instrument's lumbering tonalities over skeletal piano to utterly disarming effect on the poignant "O Caroline", where he steps out of the frame to describe his new group in the act of recording the broken love song he's now singing. Hemmed in with his multitracked harmonies, the piano song "Signed Curtain" finds him intoning "This is the first verse", etc, as he slowly works his way through the template of a pop song to the devastating last line, when he admits to the futility of attempting to communicate his feelings in words. Thereafter, Matching Mole quickly developed into an erratically effective improvising group headed by guitarist Phil Miller's relatively mood-sensitive "Part Of The Dance".

Unhappy with Mole's change of direction, Sinclair jumped ship, and was replaced by former Nucleus electric pianist Dave MacRae on their second album, Little Red Record. What with its daft skits and gooning satire framing tracks as great as "God Song" and their increasingly assured rock Improv, the album is as funny and inspired as early Soft Machine. Somewhat ironically, the two live CDs compiled from the group's 1972 and 73 US and European tours reveal Wyatt's increasing reluctance to sing. Now shaping up around McRae's jamming vehicles, Matching Mole's rock Improv orientation might well corroborate Wyatt's statement. "I was happiest in Soft Machine when it was an all electric trio - after that it wasn't quite my dream band anymore." Though they strike a few sparks, whatever energy they muster is sunk into the group's losing struggle with its growing sense of entropy. Unsurprisingly, Wyatt dissolved the group and was in the act of forming a third line-up when he fell out of a window at a party, a tragedy which left him permanently confined to a wheelchair. The accident prompted Wyatt to embark on his ongoing quest to construct one of contemporary music's most affecting and idiosyncratic songbooks, on a string of releases which has continued up to 1997's Shleep.


SOFT MACHINE
SIX
COLUMBIA 4949812 CD 1973

In keeping with their by now established ratio of a major line-up change per album, on Six Elton Dean has been replaced by Nucleus's Karl Jenkins. Originally a double LP, Six has some very fine moments, but it's a long way from the original group's sensibilities. A virtuoso oboe player, Jenkins also plays baritone and soprano saxes and electric piano. The first half of the album was recorded live in Brighton and Guildford, with Ratledge and Jenkins sharing composing honours with John Marshall's "5 From 13 (For Phil Seaman With Love & Thanks)". Unsurprisingly, given the presence of Jenkins and Marshall, some tracks bear Nucleus's hallmark accentuated rock riffing. On its original release, Six drew criticism that the group were now prone to rambling, and that they had lost their essential spark. Such remarks evidence a partial deafness to the careful pattern building of the Marshall/Hopper rhythm section. They consolidate these new compositions' reliance on overlapping structures, which recall the systems musics of Philip Glass and Steve Reich. Yet this quartet haven't entirely lost their urge to improvise. They may no longer appeal to the rock-biased contingent of Soft Machine's fanbase, but its jazz aficionados go home satisfied. By this time, the numbers were running out for Ratledge, The Softs' last surviving original member. He shuffled and sulked through the desultory Seven and Bundles and then quit.



KEITH TIPPETT'S CENTIPEDE
SEPTOBER ENERGY
DISCONFORME DISC1965 CD 1971


The inspired insanity of Tippett's Septober Energy is arguably the peak of the jazz-rock collisions Soft Machine set in motion back in the mid-60s. To realise the work, Tippett created the 50 piece organism Centipede, whose sections move independently yet attain unstoppable momentum and keen direction. Lord knows what possessed him to assemble such a beast; it took a musician/producer with the marshalling skills of Robert Fripp to help him tame it on record. "When I formed Centipede," wrote Tippett, "I wanted to enfold all the friends that I knew as much as possible, from the classical world, to the jazz world, the jazz-rock world, and the rock-rock world." Naturally, it embraces all and none of these genres simultaneously.


HUGH HOPPER
1984
CUNEIFORM RUNE104 CD 1973


Hopper's first solo album is a musical realisation of the visionary George Orwell novel from which it takes its name. Partly responding to The Softs becoming "a rather ordinary British jazz-rock outfit", Hopper revisited his early 1960s tapeloop experiments with Daevid Allen in Paris to recover his creative curiosity. In the event, he adapted the tapeloop method itself as the shaping metaphor of his musical realisation of the totalitarian condition Orwell describes, interspersing darkly brilliant loop pieces with short funk rock interludes that conjure the exhilarating taste of freedom attained in the act of resistance. These passages are delivered by a group including John Marshall, Lol Coxhill and Nick Evans. Having tasted freedom, Hopper soon made his escape from a group that now frowned on uninhibited creativity.