"It'll probably knock 10 years off your life, 20 if you smoke." This is how Robert Wyatt recalls his consultant's brusque verdict after he fell from a fourth-storey window in 1973 and, at the age of 28, found himself paralysed from the waist down.
Wyatt does smoke – or rather, he is forever giving up: he must have quit five times or more in the time it took me to write his biography. And yet, on Wednesday, he turns 70 – and, apart from the fact that he still has to keep one leg extended parallel to the floor, after breaking an ankle in the summer, he seems to be in rude health.
No one else occupies Wyatt's cultural co-ordinates. There's the sheer diversity of musicians he's worked with: Brian Eno and Paul Weller, David Gilmour and Jerry Dammers, but also contemporary artists including Björk and Hot Chip and such avant-garde jazz luminaries as Evan Parker and the late Charlie Haden.
In non-musical terms, too, he sits in the centre of a singular Venn diagram: Marxism, paraplegia, alcoholism (or, as he prefers, dipsomania – though he's been sober for the best part of a decade) and the surrealist pseudoscience of 'pataphysics make up just some of the interlocking circles. Not least for his 1974 solo effort Rock Bottom, which still regularly features in lists of the greatest albums ever made, it has been an extraordinary career, and an extraordinary life. I interviewed a lot of musicians for the book, but there were also cameo roles for Julie Christie, Jean Shrimpton, William Burroughs, Richard Branson, Robert Graves and Georges Braque. I don't think the last two, in particular, appear in many popular music biographies.
Eno puts Wyatt in his top two musicians, while Weller names him his favourite ever collaborator. Alexis Taylor from Hot Chip is such a fan that he wrote the press release for Wyatt's most recent solo album, 2007's Comicopera. What's particularly remarkable is that Wyatt has achieved all this while scoring only two top-40 hits, neither of which he wrote himself. There was I'm A Believer, written by Neil Diamond and made famous by the Monkees, in 1974, and then Shipbuilding, written for Wyatt by Elvis Costello and the producer Clive Langer, and released in the wake of the Falklands war. He hasn't played a headline gig since 1974. And to state that his singing is a long way from the traditional "good voice" is putting it mildly: reedy, forlorn and high-pitched, even if years of smoking have shifted his range downwards, Wyatt himself says he sounds like "Jimmy Sommerville on Valium".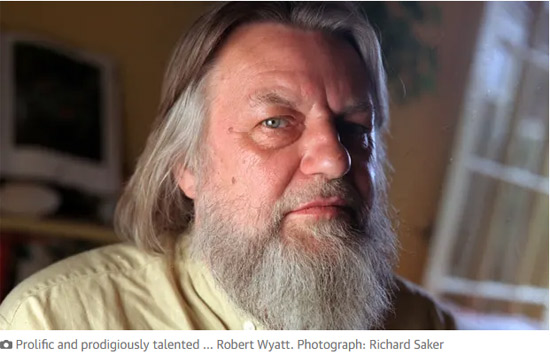 Unlike so many of his contemporaries, Wyatt hasn't drifted to the right politically as he has got older. Also unusually, he has found himself perhaps more recognised than ever in the past decade and a half. Like David Bowie, Patti Smith and Ornette Coleman, he has curated a Meltdown festival in that period. He has also been nominated for a Mercury prize and guest-edited the Today programme on Radio 4. Although he dropped out of school before completing his A levels, Wyatt boasts two honorary doctorates.
Although he describes his own creative gestation period as elephantine – 18 months rather than nine – Wyatt has in fact amassed a sizable body of work over his 50-year career. There are four studio albums with Soft Machine, two with his subsequent band, Matching Mole, and, depending on how you count them, about 10 albums as a solo artist, not to mention any number of live albums and radio sessions.
He has also been a prolific collaborator, which is why we decided to accompany the book with a compilation album, also entitled Different Every Time. Wyatt says now that he has retired, although he has made a guest appearance on at least one record that has still to be released. But even if there are no more albums under his own name, we can be grateful for the catalogue already amassed – and for the fact that, back in 1973, the consultant got it wrong. Many happy returns, Old Rottenhat.
Marcus O'Dair is the author of Different Every Time: the Authorised Biography of Robert Wyatt, published by Serpent's Tail


>> L'interview sur le site de The Guardian