The Wyatt Life - The Face N° 39 - July 1983


THE WYATT LIFE
After many years of critical neglect and seven months sunny exile on a Spanish beach, Robert Wyatt is back in favour. With the Costellopenned "Shipbuilding" firmly established in the charts and the hearts of the nation, Anthony Denselow drew Wyatt out of his introspective mood for some quiet thoughts on global music, PLU's and the new life of a former "classic Sixties drop-out figure"



Photo by Mike Laye
Robert Wyatt has tried many
different approaches to his life and work. He has experimented with drink and melancholic brooding, he has tried periods of relative working normality when he has chatted openly to the press. He has even tried tackling England from abroad. His most recent approach seems to be a healthy combination of early introspection and later career awareness.

He and his wife Alfie have now decided on the curious policy of non recognition of PLU (people like us) which seems to effectively mean that while he continues to seriously consider his musical development he can hide out in Spain having nothing whatsoever to do with the obscene worlds of media and music business.

"It's not an act of hostility, in fact I'm quite grateful to the music scene," says Wyatt. "It's more against the kind of dreadful cultural narcissism that can occur when like-minded people get together in a scene. I'm scared of all the windows misting up and turning into mirrors."

In fact Wyatt's life has changed dramatically since he packed up and headed for the Mediterranean seven months ago. He had a single - "Shipbuilding" - bubbling so close to the top 30 that only the FA cup replay postponed a Wyatt airing on Top Of The Pops. He has suddenly become aware of the growing following he's been attracting in recent months and he has one of the year's finest albums as proof of his importance in a music scene constantly drifting towards the shallow end.



Wyatt sees himself as a "looker, watcher, selector and editor" rather than as a live performer. The singles that have been dribbling out on Rough Trade since the late Seventies (collected on the new Wyatt album "Nothing Can Stop Us" released recently for the second time) are a truly oddball set of songs from staggeringly diverse cultural contexts. The album is perhaps best described as the first edition of Robert Wyatt's world view displaying a total lack of concern with ego and fashion, rather a fascination with world politics and the sort of universally powerful music that can only lamely be described as folk.

There's a version of the Cuban national anthem updated to talk about the presence American bases in Cuba that few in the West know about. There's a song from Violetta Parra, the Chilean responsible for getting that country's youth song movement off the ground. "Her songs are straightforward, unpolished, fragile and extraordinary," says Wyatt. "This one's a helpless cry for Chileans to rise from the grave and stand up for themselves."

There's Wyatt's heart-trembling version of Chic's "At Last I Am Free", the typically child-like Ivor Cutler song "Grass" ("Cutler says I sing it alright except that I sing it as though it has meaning," reports a surprised Wyatt); "Born Again Cretin" is inspired by Nelson Mandela's imprisonment in South Africa; Billie Holiday's "Strange Fruit" is about a racial lynching in the American deep South while Wyatt's rendition of the Red Flag speaks eloquently enough for itself.

"I suppose that I'm attracted to certain places but it's more often just the tunes that get me first," says Wyatt about his material. "There are many musical areas that I'm really into that I couldn't handle within my technical range, things like Middle Eastern Arab music and Oriental classical music. So this album doesn't reflect all the styles that I'm interested in, just those that I think I can add to."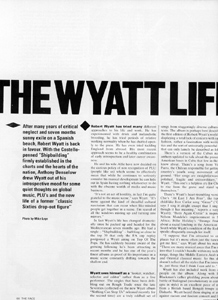 Wyatt has also included work from other people on the album. Along with Peter Blackman's rather plodding poem about the battle of Stalingrad (revolutionary in content, epic in style) is an excellent piece of music from a British based Bengali troupe called Disharhi. Wyatt heard them singing at an art against racism and fascism concert and liked them so much he just asked them onto the album. They sing (in Bengali) a trade union rallying song. "I was accused of being elitist for not translating the lyrics for the Parra and Disharhi songs," says Wyatt. "It's not elitist if you're a Bengali is it?"

"Nothing Can Stop Us" is a generous album; a collection of fine tunes, stimulating ideas and powerful emotions that says much about the function and inspiration of music (as it leaps between different cultural standpoints). Wyatt himself is weary of giving the album too much significance. "What we think of as global politics, global visions and global cultures are in fact so conditioned by our Eurocentric myopia that we still, despite our power and our increased dealings with other people from around the world, haven't come to terms with other cultures. I even make fun of attempting to make a comprehensive world view with the title of the album - which sounds quite revolutionary. It's a quote from an American government official of the Thirties who reckoned that America shouldn't make the same mistake as Britain by trying to govern the world. He said America should simply own it, nothing can stop us."

For its second outing to the record shops "Nothing Can Stop Us" includes the Langer/Costello/Wyatt collaboration "Shipbuilding", an intriguing partnership that will hopefully bear more fruit in the future. Clive Langer, apparently inspired by the way in which Wyatt sings the Billie Holiday song "Strange Fruit", wrote the music. Elvis Costello supplied the bleak lyrics and Wyatt received the demo tape through the post one morning.

"It's been the happiest experience I've had as a producer/songwriter," says an unusually enthusiastic Elvis Costello of his encounter with Wyatt. "The song has been realised perfectly. It sounds completely like the intent of the lyric and melody, Wyatt has an amazing voice. I'd always wanted to hear Dusty Springfield record one of my songs and when she did 'Just A Memory' it was a great bland disappointment. I think that people have been so overwhelmed by the melancholy of Robert's singing that the political comment in 'Shipbuilding' hasn't been immediately spotted. The lyric seems to filter through afterwards; the BBC probably wouldn't like it otherwise."



Wyatt seems to invest everything he sings with this haunting sadness (it will be interesting to hear Costello's version of "Shipbuilding" on his forthcoming album) but he shies away from any boasts on his role as a singer.

"Maybe it's melancholic because I don't consciously emote," he offers. "I'm aware that there are people - musicians - who say that I'm an influence on them but I really don't know enough about the current music scene. In fact there's no one idiom available to me that I feel comfortable with. Rock I find too musically dogmatic. I was brought up on the sort of jazz with fluid, ambiguous, drumming and walking bass lines and I guess it's that kind of breezy fluidity that I'm trying to put into singing songs. I still get infuriated with rigid blocks of verses and instrument breaks, but I'm working on it."

Wyatt is sitting in his Twickenham flat (a quiet backwater by the river that he still maintains despite the move to Spain) surrounded by objects reflecting his preoccupations in life. The walls of his brightly painted breakfast room are covered with Alfie's equally bright paintings and with ethnic art objects; the bookshelves are full of political, mainly Communist, literature. He has a music room where he can play piano (his toy organ has recently broken) and bits of percussion. He has a specially built ramp so he can run his wheelchair into the neat bird-haven garden.

The flat was bought for them partly by their friend Julie Christie and from money raised by a charity concert given by the Pink Floyd after Wyatt's tragic accident ten-years-ago when he broke his spine falling from a house window. "I didn't have to use all the money," recalls Wyatt, "because the album 'Rock Bottom', which I still think is great, was actually making me some money."

Given Wyatt's current popularity after years in the wilderness it's incredible to consider that his first musical tangles were back in the Sixties. As the drummer with Soft Machine (he was then only a closet singer) he toured the US supporting Jimi Hendrix, and built up quite a following in this country ("among the wrong sort of people") for his bare-backed drumming enthusiasm.

The son of a psychologist father and journalist mother, Wyatt was the perfect Sixties drop-out figure, the untrained and illeducated intellectual member of a jazz-rock fusion band. After Soft Machine disbanded in 1971 Wyatt started to sing, first on the "End Of An Ear" album, then with the band Matching Mole (recording that classic Wyatt song "Caroline") and on the other solo albums "Rock Bottom" and "Ruth Is Stranger Than Richard". All these records are now difficult to obtain.

While the early albums often reflected Wyatt's frustration with the traditional song format (another Matching Mole song was actually about verses and choruses) he has steadily developed the political quality of his songwriting and music choice. Wyatt is a paid-up member of the Communist Party and he feels that the CP helped him move away from the shock of his accident and from the narcissism of rock in the mid Seventies to a more considered philosophy.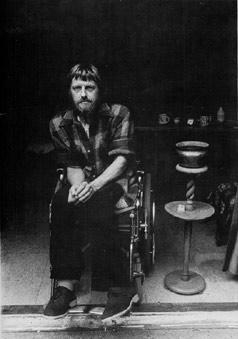 "It helped me focus the jungle of my thoughts, but it's difficult to talk about politics and its relationship with music. I think Julie Burchill is the only person I know of who can articulate that. I don't think of music as intrinsically political (as some do) but I think it's quite pretentious to claim that you're not trying to say anything when you sing. All noise is communication and reminds you of words. Personally I see the political role of music in a totally different light. "Memories Of You" for example (the B-side of 'Shipbuilding') may sound just like a nostalgia song but it's political for me because Eubie Blake who wrote it and who was 100 in 1983 was writing before jazz and somehow represents a much used but amazingly uncredited strand of American popular music. That he gets some royalties for that song is the only genuinely quantifiable political act I can make: the transfer of resources. Beyond that I have no control over a song and how it affects anybody."

Wyatt's greatest joy in life is to take the phone off the hook and tune his radio into a variety of exotic stations. When he hits Radio Moscow, then he's off in dreamland. He reads and listens to music from all over the world, especially the early and obscure jazz that he grew up with, and recently he has been expanding his fascination with all things Spanish.
Robert and Alfie live in "something bigger than a garage" right on the beach south of Barcelona. Alfie paints and Wyatt wheels himself around the beach, writes, reads, attends regular weekend Catalan piss-ups, and has been getting to hear as much pure Flamenco music as possible. He is lucky that Barcelona has a good spinal unit for he cannot stray away too far from medical surveillance. "Being in a wheelchair has been like a short cut to feeling old. You are forcibly removed from things like sexual panic. You worry about getting in and out of places. You start finding yourself sitting on park benches next to retired couples. You feel more fixed, less nomadic. You get tired quicker, and being a paraplegic, my body is actually aging faster than most people's. You cannot be spontaneous, you worry about the future and whether people will buy your records. I never thought that ten years ago."

Wyatt has again retreated back to Spain to consider his next form of musical attack. Apart from the singles and now one album, he has had little commercial output in years and he says he could never consider performing live. "I had to get drunk to do it before; it would mean having things like managers and microphones." He also made that excellent soundtrack for Victor Schonfeld's horrifically distressing The Animals Film largely because Julie Christie, the narrator, asked him to. He worked furiously for months for £100. Talking Heads demanded £500 just for the use of their music during the opening sequence.

At the moment Wyatt is carefully observing the policy of avoidance of PLU and he has yet to actually write a song in Spain. Those of us who have been mesmerised by Wyatt's dolorous singing will just have to wait. But hopefully another album will not take another decade in coming. "I can't do anything else in life declares stoically, "I have to keep doing this somehow."