An Austr-Alien in Paris - Shindig! - Issue 127 - May 2022










Allen with Daniel Laloux
on hunting horn, early '70


oft Machine arrived in France at the beginning of July 1967 with a booking to play all summer long at a "psychedelic discotheque" near St Tropez. When "all summer long" became "for three nights only", the band found themselves stranded in paradise with a truck full of gear and no money. However, a chance beach-side encounter with a Parisian antique dealer would quickly turn things around. Bob Benamou, who would soon become Gong's manager, tells Shindig! "They were playing on the beach at a beer festival; it was a horrible place and nobody was there. I said, 'You can't stay here,' so I installed the whole group in a villa in St Tropez. We became very close. Daevid Allen was so creative, so poetic, and so surrealistic: an amazing person."

Benamou was organising a series of happenings with underground artist Jean- Jacques Lebel. Lebel offered Soft Machine the opportunity to perform during a staging of Picasso's play Desire Caught By The Tail. The band leapt at the chance, immersing themselves in the Dadaist production for three weeks. Lebel told writer Aymeric Leroy, "Daevid said to me several times afterwards, and Kevin [Ayers] too, that this experience had really allowed them to 'bloom' as artists, to differentiate themselves from what was around them."

Soft Machine also scored an invitation to play at a party organised by the owner of Barclay Records, where they impressed a large crowd of movers-and-shakers with a 40-minute rendition of 'We Did It Again'. These performances created a buzz among the Parisian artistic elite who'd flocked to the Côte d'Azur that summer, which gave the band a real foothold in France. They would consolidate this position by returning to the country every month for the remainder of 1967.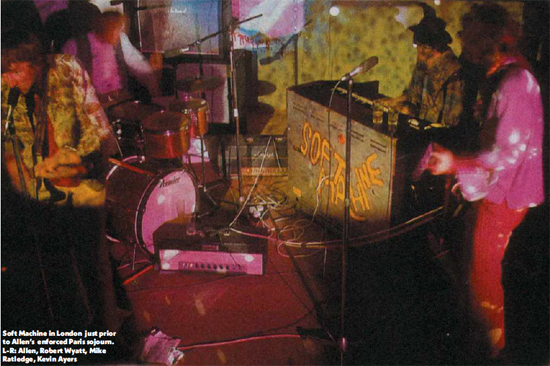 Soft Machine in London just prior to Allen's enforced Paris sojourn.
L-R: Allen, Robert Wyatt, Mike Ratledge, Kevin Ayer


However, Soft Machine would make these trips as a three-piece. An expired visa saw Allen turned back at Dover, and even worse, banned from entering the UK for three years. Not wanting to return to Australia, he had little choice but to install himself in Paris. His time in Soft Machine was brutally cut short.

Once in Paris, Allen leapt into action, quickly gathering a collective of improvising musicians around himself. These included his long-term collaborator and partner Gilli Smyth, vocalist Ziska Baum and flautist Loren Standlee. For their first show they took the name Gong Full Moon Fantastickal, and soon landed a 10-week residency at underground hotspot La Vieille Grille. Their sets of freely improvised music caused a sensation in Paris's nascent underground scene. A long segment filmed for French TV in early '68 (available on YouTube) is revelatory, showing the genesis of the idiosyncratic styles that Allen and Smyth would later perfect in Gong.

Allen has always given Syd Barrett credit for inspiring his "glissando" guitar technique. In Gong Dreaming 1 he writes: "I saw Syd playing a curious sort of slide guitar with the Floyd at Ally Pally in '67 and he looked rather embarrassed by it. But out front it sounded spectacularly Wagnerian! I was impressed." Armed with a box of antique gynaecological instruments and a delay unit, Allen learned to coax a galaxy of sound from his Telecaster guitar. While Allen was able to explain the origin of his style, he was at a loss when it came to describing Smyth's "space whisper" vocals. "It didn't come from any outside influence that I know of. She just immediately began to sing like that... Ziska Baum and Gilli were magical together. The two of them just created that style together out of thin air."

Allen made many contacts at the Vieille Grille, the most important being with the young filmmaker Jérôme Laperrousaz. His support would prove incredibly important to Allen over the next few years. When Allen told him he was looking to put together a new group to play more traditionally structured songs, the filmmaker put him in touch with Marc Blanc and Patrick Fontaine. They were the rhythm section of a band whose guitarist had just been called up for national service, and as fate would have it were already ardent fans of Soft Machine.

The trio clicked immediately, playing their first gig together in January '68. Blanc told Shindig!, "We had just enough time to rehearse two tracks ['Why Are We Sleeping' and 'We Did It Again']. We played three sets that were basically freakouts. The audience was stunned, enjoying it without realising it was Soft Machine's guitarist playing." Allen christened the new band Bananamoon. While it would only play a score of gigs and record a handful of demos that were unreleased until decades later, its impact on French music would be enormous. It spawned the bands Gong and Ame Son, and in bringing the first flush of real psychedelia to France, helped shape the country's emerging musical underground.

Laperrousaz worked on the TV programme Bouton Rouge, and used his influence to organise a spot for Bananamoon. Arrangements were made to meet in the Latin Quarter to shoot a clip for their version of 'Why Are We Sleeping?'. The chosen day turned out to be during the worst street fighting of the May '68 protests. The band arrived in what looked like a war zone: hastily erected barricades, burned-out vehicles, and uprooted trees everywhere, and the air electric with tension. Bravely or foolishly, Laperrousaz leapt at the chance to use this as his backdrop. "We were filmed climbing the barricades with our instruments, against a background of total chaos", recalls Fontaine. Filming continued for the entire day, with Laperrousaz truly pushing his luck at times. Allen relates in Gong Dreaming 1 that with cameras in tow, "l wandered down a block to find a menacing black battle-truck full of super tough paracommandos. From somewhere Jérôme miraculously conjured up a large paper bag full of toy teddy bears. So l danced up to the wagon, and bowed to the stonefaced paratroopers... 'Les compliments de Winnie le Pooh...' l cried solemnly and handed each of them a wee teddy bear. Stern jawlines cracked open with amazement and then delight. They'd all abruptly turned into little boys. l left behind a truckload of human laughter..."

The paras may have been left laughing, but once news of this filmed escapade reached the authorities, they were not amused. Laperrousaz was dismissed from his job, but worse potentially lay in store for Allen. Informed that he was on an arrest list of undesirable aliens, he and Smyth fled France. They headed for Deya on the island of Mallorca, with Blanc and Fontaine following soon after. Fontaine remembers these months spent together on their island refuge as an extraordinary time. Living in community, they grew closer both personally and musically.

In their absence Laperrousaz worked to gain the interest of several record labels, and in December '68 Bananamoon clandestinely returned to Paris to record demo tapes, which ultimately failed to secure a signing. To evade the attention of the Paris police, the band relocated to a property owned by Bob Benamou in the tiny town of Montaulieu, near Avignon – a place that would also be significant in Gong's story. There Allen began writing the songs that would form the core of his Magick Brother album.

Unfortunately, Marc Blanc was finding less inspiration in Allen's new music. When Blanc's former guitarist returned from the army in April '69, it didn't take long for him to float the idea of starting a new band. Two months later Blanc and Fontaine split amicably with Allen to form Ame Son.

From this point things moved very quickly. Within months both Ame Son and Daevid Allen had signed to BYG Records, recorded their debut albums, and shared the stage at the legendary Amougies Festival. Well before Bananamoon split, Allen had nurtured the vision of a different kind of band. Central to his plan was a flute and sax player he had encountered in Paris, and then, in a bizarre twist of fate, met again in Deya just weeks later. Didier Malherbe told Shindig!, "I went to spend the summer in Deya and Daevid was there! Summer of '68 was pretty amazing, one of the best times I've had in my life. We were seeing a lot of each other and playing music, and eventually we kind of decided to set up Gong… not immediately, it came little by little."



Bananamoon, Balearic Islands, 1968. L-R: Patrick Fontaine, Daevid Allen, Gilli Smyth, Marc Blanc.


With an album to record for BYG, Allen called on Malherbe, who would be the one constant musician at his side for the next five years. According to Bob Benamou, "After Daevid, Didier Malherbe was the most important person in Gong: a great, great musician." Malherbe makes the point that Magick Brother, recorded in September '69, isn't a Gong record, but a Daevid Allen solo album with guest musicians: himself, Gilli Smyth, and drummer Rachid Houari – who would all become members of Gong – along with a number of American jazzmen. The LP is a fine set of psychedelic pop songs leavened with flourishes of free-jazz. Most significant in foreshadowing the sound of Gong-tocome are the bookending tracks. 'Mystic Sister' points towards the glissando guitar/space whisper vocal passages of classic Gong, while 'Cos You Got Green Hair' is a more earthy taster of the floating stoned-ambient interludes of the Radio Gnome Invisible trilogy.

Immediately after completing the recording, the group was augmented with bassist Christian Tritsch, violinists Gerry Field and Dieter Gewissler, and the wildcard figure of Daniel Laloux on vocals, hunting horn, and marching drum. This was the line-up that played at The Amougies Festival in October '69.

Because of Allen's relationship with BYG, the band had a feature slot at the festival, headlining the Sunday night lineup of French bands. However, a series of delays and over-runs pushed their appearance into the wee hours of Monday morning. Gerry Field, who left the band immediately after the festival, informs Shindig! they were billed as The Daevid Allen Group, and he can't recall the name Gong being used during his tenure. Malherbe relates that it was 5am when they finally took the stage, and shock tactics were needed to energise the fading audience. "People were lying like corpses, half asleep. Daniel Laloux was playing a military drum from the Napoleonic period. So Daniel pounded on his drum, and recited a famous Victor Hugo poem about Napoleon and Waterloo,which was only a couple of kilometres from Amougies." The crowd responded enthusiastically. The remainder of the set featured songs from Magick Brother interspersed with a good deal of free improvisation. In his review for Rock & Folk Paul Alessandrini called it an "indisputable success", impressed by the band's perfect balance of "musical delirium" and "devastating humour".

Jérôme Laperrousaz had filmed the festival, but the sound recording of Allen and co's performance proved unusable. To recreate their music for the film, he invited Gong (as they were now known) to move into his family's chateau in Normandy. The band would stay there for the next five months, rehearsing and recording. The tapes from the "haunted chateau" reveal Gong's progression from a psychedelic pop sound to a much harder psych-rock featuring long passages of free improvisation. By the time Magick Brother was released in March '70, Gong's music had progressed far beyond it. In fact, Allen is surprisingly dismissive of the album in an early interview. "It doesn't represent the current group. It was a kind of masturbation, or rather the result of massive constipation. In short I relieved myself."

Only a month later Gong's new sound was revealed on the single 'Garçon Ou Fille' which exhibited a new-found aggression: an almost punk energy courtesy of Allen's fuzzed-out guitar and violently delirious vocal. This was just one side of the coin, though. The more esoteric, improvisational aspect of the band can be heard in a performance of 'Dreaming It' filmed at about the same time (and available on YouTube) which brings Malherbe's and Gewissler's contributions to the fore.

Surveying the band's evolution for Rock & Folk in '71, Paul Alessandrini was clearly biased towards this era's divergent but oddly cohesive melange of music. He described it as "sonic madness, a kind of violence, with so many original components asserted to excess, without any search for formal perfection". Alessandrini singled out Daniel Laloux, praising his contribution to Gong's "comedic and derisive theatrical side". This first era would be closed when Laloux and Gewissler both departed in May '70. Bob Benamou also highlighted Laloux's early contribution. "He didn't stay long, less than a year, but he was great, completely surrealistic, a fantastic artist." Benamou had been installed as Gong's manager a few months earlier and offered his property in Montaulieu as the band's home base for the summer. Before heading there Gong spent two months in Paris, rehearsing in the cellar below Benamou's antique shop.


The catalyst needed to accelerate Gong's development was discovered just before they left Paris, in the person of Francis Linon, aka Venux De Luxe. Linon admits to Shindig! that he blagged his way into the band. "Daevid told me they were on their way to the south and that he needed people to help with the equipment. Without any knowledge at all on what was required, I said, 'I'm the man you're looking for!' and my whole life suddenly changed."

A few days later, he was in Montaulieu with the rest of the band. "It was a typical small village at the top of a hill, where the road ends. Bob owned practically all of it. Behind the village, on a plateau in the wilderness, there was an ancient sheepfold. The electricity had just been connected. This is where we moved in with the equipment. It took us more than a week just to clean up the goat droppings covering the floor. After putting rugs all over, we put the gear in the middle and around the walls some mattresses separated by stretched fabric for a little privacy. A stove in a corner, the toilets outside, the bathroom in the river... The Gong community was born."

In the three months Gong spent there, Montaulieu became their spiritual home. It was there that communal living became an essential part of their lives, and it was there that Gong's music made a quantum leap; when Linon massaged their sound through his effects processors, a truly cosmic music emerged.

With winter approaching, life in the sheepfold was becoming harder and harder. After a year of nomadic wanderings, Gong needed a permanent base. They found it at Pavillon du Hay, an abandoned hunting lodge 120 km southeast of Paris and supposedly discovered by Gilli Smyth randomly placing her finger on a map. This would be their home until they quit France for the UK three years later.

The passage across '70 had been a formative year for Gong. They had honed their idiosyncratic music style and developed a strong community ethos. They entered '71 with only one seveninch to their name, but with the foundations laid for an incredible creative explosion. The first fruit was Daevid Allen's sophomore solo record. Keen to capitalise on Soft Machine's fame, BYG wanted Allen to record with some of his former bandmates. With the end of his three-year ban, Allen was finally free to travel to the UK and do just that. In February '71 he recorded the Banana Moon LP with Robert Wyatt guesting on vocals and drums. Other players on the session included violinist Gerry Field from the Amougies band and drummer Pip Pyle. During the sessions Allen met a young studio engineer who was experimenting with a new EMS synthesiser.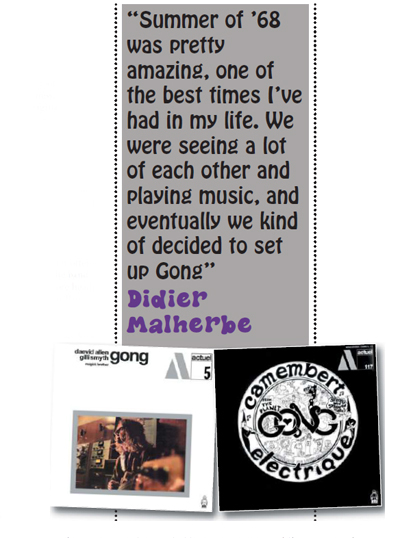 "I met Daevid at Marquee Studios," Tim Blake tells Shindig! "He was having trouble finishing Banana Moon, so I helped out with the mixing. Daevid invited me to go back with him to France the next day." Blake relocated to Pavillon du Hay, bringing his EMS synth with him. If all had gone according to plan, Camembert Electrique would have had a more electronic edge, but a change in drummers put a spanner in the works.

Rachid Houari's wife had never felt at ease in the Gong community, and he finally made the decision to leave the band in spring '71. Allen called in Pip Pyle from the Banana Moon sessions to take over. Unfortunately, he and Blake had history. "Pip and I knew each other, but I don't think we liked each other very much!" Pyle particularly hated Blake's synthesiser, claiming that it sounded "like a flock of deranged psychedelic chaffinches". He put his foot down, saying it was either him or Blake. Exit Tim Blake (at least for now).

Pyle's first few months in Gong were a baptism of fire. Continuing its creative streak, the band entered the Chateau d'Herouville studio – Elton John's "Honky Chateau" – in May '71 to record two albums in quick succession. First up was the soundtrack to Jerôme Laperrousaz's film Continental Circus. For Allen this was an important opportunity to pay Laperrousaz back for his immense support. In Gong Dreaming 2 he writes, "We went into the studio clean and clear. With Pip on drums and no rehearsal whatsoever, we completed the soundtrack/album in a series of perfect first takes... recorded, overdubbed and mixed in two days. Jérôme was delighted."

It was Francis Linon's first experience in a recording studio. "Everything was done almost live, I was operating the echo chambers like in a concert. Everything went very quickly and everyone was pleased with the result. What happiness!"

Gong were back in Herouville almost immediately, backing poet Dashiel Hedayat on his album Obsolete. Allen was a fan of Hedayat's poetry and was very happy to provide the music for his songs and poems. The album was completed in another whirlwind two-day session and has gone on to be recognised as a classic of the French underground scene. While these albums are overshadowed by Camembert Electrique, they are both essential parts of Gong's discography. The longer tracks gave the band the chance to stretch out, showcasing the improvisational power they had developed – most notably on 'Cielo Drive/17' from Obsolete and 'Blues For Findlay (instrumental)' from Continental Circus.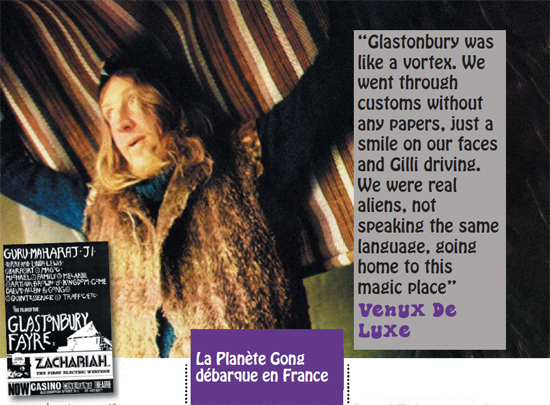 With two albums under their belt, Gong entered Herouville studios yet again in June '71. This was the main event: a 10-day session to record their debut album. According to Linon, they entered the studio primed to bring the past 12 months to a culmination. "The recording of Camembert Electrique was the concretisation of everything that happened before, the perfect way of life at Montaulieu, and Pavillon du Hay." In Gong Dreaming 2 Allen writes, "The band was right on its own cutting edge so the results were satisfying. Within 10 days we had completed the backing tracks and most instrumental overdubs."

There was a two-month gap before the mixing sessions took place in September '71. Allen recalled listening to the final playback. "I felt a deep sense of completion and I was very happy. For the moment, we had already won. I had the feeling that this album would be around for a long time." Between the two sessions Allen had led the band across the channel to play at the '71 Glastonbury Festival, and for him their first gig in England was also a homecoming. Francis Linon's account of the event is striking. "Glastonbury was like a vortex. No one could stop us doing it. We went through customs without any papers, just a smile on our faces and Gilli driving. We were real aliens, not speaking the same language, going home to this magic place." The band had just kicked off their afternoon set when disaster seemed to strike." As soon as we started, in a climax going up, the generator broke down." This setback actually ended up being a godsend.

Allen picks up the story in Gong Dreaming 2. "By the time we resumed it was that magic sunset time and we were now in the glow of stage lights. We had barely started when I looked up to see a pied piper line of a thousand or so dancing people snaking down the hill to gather at the front of the stage cavorting and rejoicing to the music of this odd French band called Gong... This was the kind of audience that Gong had been created for, and the gathering awareness of this was running both ways at once. This was our English spiritual family."

A certain Richard Branson was in the audience that day, and very soon he would be making overtures to the band. Gong would continue to live in France for some time, but their interplay with England would increase. The next album would be recorded at Virgin's Manor studio, and over time more English musicians would be added to the line-up. Gong would never lose its French influence, but after Glastonbury it would never be quite as strong. A new chapter had begun.

Ian would like to thank Bob Benamou, Marc Blanc, Patrick Fontaine, Didier Malherbe, Gerry Field, Francis Linon, Tim Blake, and Aymeric Leroy for their generous contributions.
Gong tour later this year and a box set is due soon.
For news visit planetgong.co.uk