All His Thoughts In Focus - Shindig! - Issue 74 - December 2017
| | |
| --- | --- |
| | |


ritten in 1971 and released as a single the following year,'O Caroline' is the musical product of Robert Wyatt and Dave Sinclair, the latter having left Caravan (for the first time), only to be coaxed back from his travels via a telegram from the former. While playing various bits and pieces to each other in the early days of Matching Mole, Wyatt heard Sinclair's tune and asked if he could provide the lyrics. Listening now to their self-tided album, it's almost unimaginable that the words were ever separate from melody — they seem bound together, wrought from the same emotion, destined for the same fate.

On the surface, it appears to describe Wyatt's love for Caroline Coon, an artist and activist with whom he was sharing a tempestuous relationship. Marcus O'Dair's superb biography Different Every Time makes it clear that the early '70s were an incredibly difficult period for the ex-Soft incredibly difficult period for the ex-Soft Machine man. Wyatt's gradual ejection from the band resembled a love affair turning cold, each party a magnet twisting from its attracting pole towards the repellent. Kevin Avers had left, (albeit amicably, to pursue his solo projects) and this indicated the direction the rest of the band was headed. While Daevid Allen and Mike Ratledge were aiming for a more complex, jazzier sound, Wyatt was very much into developing his "pop" voice.

"When you form a band like Robert did", suggests Coon, "you are in love with your band, you are the band. It is your identity. And when the band fractures, your heart breaks and your identity is pulverised. It can feel like the most crucial, fecund years of your life are reduced to nothing". Wyatt himself describes the song as "totally metaphorical" and like "looking at an old tattoo". Indeed, if one were to remove the chorus or replace Caroline's name with that of his old outfit, it would read like a letter of unrequited love to Soft Machine, their name instead of hers etched on Wyatt's arm below anchor or skewered heart. Indeed, the very name Matching Mole grasps at two opposing emotions; as a phonetic pun on the French translation of Soft Machine, Wyatt is reforming that outfit under his own terms, a move possibly designed to needle at his former collaborators. But at the same time, it barely disguises his longing and loss — a loving nod back to the creative bond they once shared.

There have been surprisingly few covers of the song, possibly because of Soft Machine's relatively niche appeal or perhaps because the stark sentiment of its lyrics is just too personal — perhaps a cover of the song would be like going for a drink with your best friend's ex — to put it mildly, a little bit awkward. But one or two brave souls have given it a try; besides a nice version from early '90s indie kids Horse Latitudes and a niiiiiiiice take by France's Orchestra National de Jazz, a lo-fi beauty of a thing appears on the Gorky's Zygotic Mynci album, Tatay.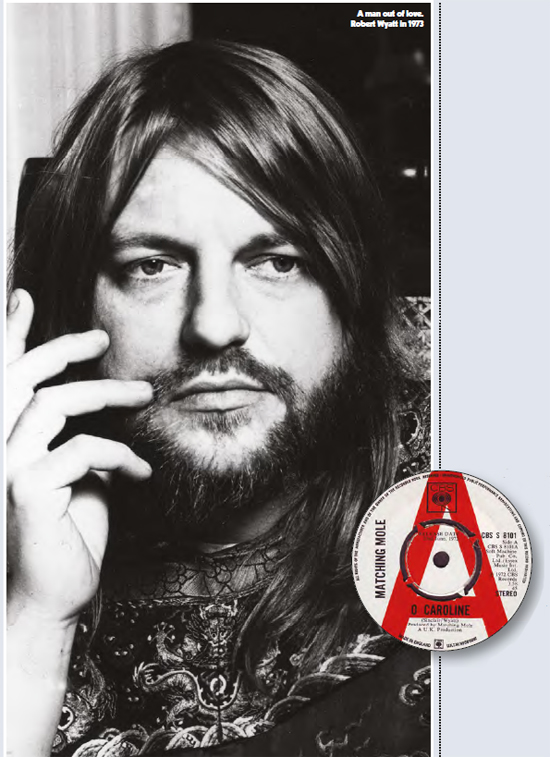 It is a dazzling, weird and utterly bonkers collection of songs; released on Ankst in '94, it comprises a heady mix of Welsh-language pop and wonky psych, some parts of which were unaltered from home-recorded versions of the previous two years. Alongside the Matching Mole cover there is, confusingly, another piece named 'O Caroline'which is entirely different. "Euros' 'O Caroline' might be a way of showing he could write a song as beautiful as any of Wyatt's," says Emyr Glyn Williams, co-founder of Ankst Records. She continues, "I remember them saying that Kevin Avers' Shoot At The Moon was the best record ever made — so clearly they had a strong love for the Canterbury/Soft Machine/Kevin Ayers period."

That fact that Tatay includes a cover of'O Caroline', their own tune of the same title and a song named'Robert Wyatt' could be interpreted as an attempt to construct their own version of Soft Machine. Williams continues. "Importantly, their first producer Alan Holmes was a very knowledgeable musician who loved all these bands as well, and that led to a lot of freedom in expressing ideas and experimenting with recording techniques. It gave a sense of total freedom for the band whilst recording at Gorwel Owen's studio - so maybe they fed on the 'perceived' historical notion of group freedom they imagined would have existed in the original Canterbury Scene."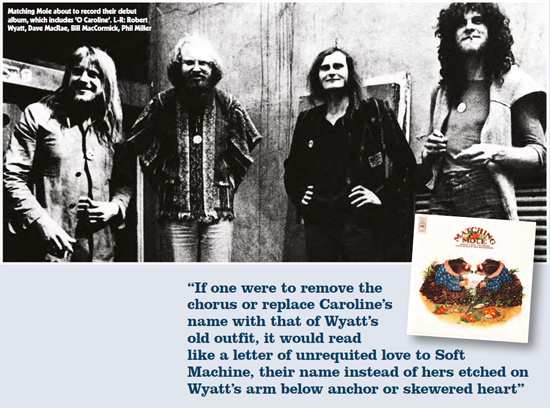 When asked about the appeal of Gorky's version, Williams says, "The effect it physically has on me — from the first drum machine to the woozy organ, I'm helplessly in thrall to it. I also love it because it's the original cassette demo version (done at home) with minimal studio polishing — as they couldn't replicate the 'feel' and also the specific quality of the vocal sound."

Where Matching Mole lead the listener up the garden path, Mellotron flute and piano unfolding in the shade while an irregular metronome beat flutters like a heart being squeezed, Gorky's version begins with a recording of the band bickering at what might be some ungodly hour. Perhaps it's a tour bus, a recording studio or in the ethanol haze of an early, post-party morning. Either way, its beauty stems from the fact that it seems to concern the decision to boil a kettle.

Alan Holmes (the producer of Tatay mentioned previously by Williams) describes how he came to be involved. "One day in '92, Euros Childs phoned me to ask if I would produce their new album. Of course I jumped at the chance to work with them and Euros sent me a cassette of demos that included a version of Matching Mole's 'O Caroline'. I was taken aback that these young people had recorded a version of a song that was one of my very favourites when I was their age, but had thought to be long forgotten."


So, just as the original lyrics could be a coded love letter to his old band members, Gorky's cover version of'O Caroline' is itself a love letter to Wyatt, Ayers, The Soft Machine and Matching Mole, all of whom are owed a huge creative credit by GZM. By covering the song, they are not only highlighting the aesthetic connections to which they aspire, but revealing an honesty, purity and wit that would come to define their work up until their split in 2006.

Spencer Tomson