Robert Wyatt - Record Collector N° 449 - January 2016

ROBERT WYATT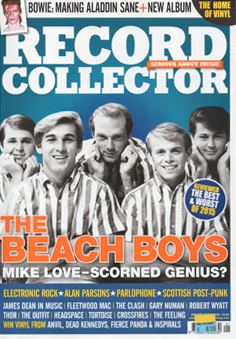 The Wilde Flowers 2CD is on Retroworld, 8 January, and RC asked the prog supergroup's mainstay, Robert Wyatt, if there are any other projects that he did that fans may not be aware of? "I tried writing a song for Paul Weller, which never surfaced, and I recorded a 10-minute instrumental for Jean-Pierre Muller's art installation, 7 By 7, which he asked us not to release separately."

With whom would you like to make a split 7"?
Archie Shepp.

What was your favourite record shop when you started out?
Collet's, on London's Shaftesbury Avenue. It had Ray Charles records on the jukebox, and a box marked "Rare as hen's teeth" in which I found a Japanese Blue Note LP of Kenny Dorham's Whistle Stop.


What was your first record?
Louis Armstrong's Skokiaan, maybe.

Did you ever write songs under the influence?
Goodness me, yes. When didn't I would be a much shorter list! Wine's a nice way to kickstart work. Brandy, one long solitary weekend, led to Blues In Bob Minor.

Are your family musical?
My pa, George Ellidge, played piano, and I started singing Christmas carols and funny songs like Little Brown Jug with him. My grandma, Annie Morgan, sang songs such as Come Into The Garden, Maud.

What would you ask your music hero?
Archie Shepp. l've met him several times and asked him about jazz saxophonists from the 40s and 50s that he listened to, such as Ben Webster and Al Sears, l'd ask more
about that.

What record are you looking for?
Anything by Syrian vocalist George Wassouf, and the renegade concert pianist, Valentina Lisitsa. Culture from the front-line.

Which band would you most like to see in reality TV?
The Unthank Sisters, if it was on the BBC. The only channel that I tune into regularly with adverts now is Russia Today.

Which of your songs is the most personally meaningful?
Old Europe. Just me and Gilad Atzmon playing a nostalgic song about Paris. More poignant than ever.

What backstage incident makes you laugh or cringe most?
In New York, my friend Caroline Coon tried to take a quick photo of Miles Davis backstage, and he hissed, "tell that bitch to get that thing outta my face".

What fact about you may surprise fans?
-1 can't see anything wrong with Justin Bieber.

If you held a record-listening party, what record would you play, and who would you invite to discuss it?
Gil Evans Band's Out Of The Cool, and l'd invite Richard Williams and photographer Laurie Lewis to discuss it.

Which question do you wish people would stop asking?
What was Syd Barrett like?

What unfulfilled ambitions do you have?
To get NATO to fuck off, like the Warsaw Pact did.

What should your epitaph say?
Don't worry about the worms. They don't get this far down.