Comrade Softy - Q N°61 - October 1991

COMRADE SOFTY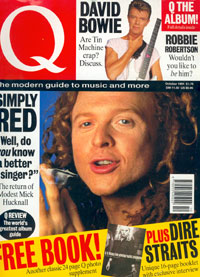 One-time drummer with The Soft Machine, full-time member of the Communist Party, Robert Wyatt's life was changed forever by the accident that crippled him in 1973. But he kept on making music - just about. "If anything," he tells Martin Aston, "it helped me with the music, because the hospital left me free to dream."


"I'M A MUSICIAN when I remember to be," Robert Wyatt confesses with an earnest tug at his straggly, greying beard. "In fact, I don't even think about it very often. l'm still mainly a jazz fan. If you could get a job as one, l'd apply for it. 'I want you to listen to the entire works of John Coltrane'. 'OK boss, sure..."'

Over the years, Wyatt has become accustomed to defending his periodic absences from the music business. No two or even three-year between albums hibernation here; give or take the odd single or collaboration, since 1975's Ruth Is Stranger Than Richard, it's taken him five years to release a brace of singles and a film soundtrack, another four to release a selfpenned album and a further six years before the new LP, Dondestan, was ready to go.

"Basically, since the mid-'70s, you could say my preoccupations have been, uh, political," Wyatt sighs, visibly uncomfortable with the limited connotation of his words. "I've done things like write articles for the Morning Star on topics like Bulgarian folk music or foreign radio stations, or, in the case of my last piece, Courtney Pine. I also write letters to anyone who'll print them, and a lot who won't. It doesn't sound like a lot, does it? l've probably turned into the left equivalent of those anachronistic, retired generals who dash off furious letters to the DaiIy Express - except I write to the BBC..."

Wyatt's career would undoubtedly have taken a different turn had he not, in 1973 , drunkenly fallen out of a fourth-floor window at a party and broken his back. He'd left his Canterbury school in 1960 without any qualifications but with an overwhelming love of jazz - "I used to live precariously in a kind of reconstructed ' 40s Harlem in my head and only come out to eat and sleep" - which led him to the drums and his first group, The Wilde Flowers. They soon split in half, Pye Hastings and David Sinclair forming Caravan while Wyatt teamed up with Mike Ratledge, Daevid Allen and Kevin Ayers in Soft Machine.



Robert Wyatt in North London, Summer 1991.
Disabled by an accident in 1973, the one-time
Soft Machine drummer turned his attentions
to singing, to solo records like Shipbuilding,
and to politics.
The Softies, as Wyatt calls them, joined Pink Floyd at the forefront of Britain's new wave of psychedelic art-rockers, quickly turning to free- form jazz-rock fusion. But there were constant tribulations - "The history of the group," Wyatt says, "was throwing each other out of it" - and Wyatt himself finally departed after the fourth album, to record the largely instrumental solo album, The End Of An Ear, after which he formed the equally experimental Matching Mole, a group of "people I could talk to" and who gave him the chance to sing in that characteristically affecting, melancholic voice. (When asked now whether he likes his voice, he dodges the question by self-deprecatingly referring to one critic who likened it to " Jimmy Somerville on valium.")

Matching Mole were already exploring Wyatt's melancholy fusions when his accident occurred, committing him to hospitaf for a year and depriving him of the bottom half of his drum kit when he got out. Unable to maintain a group from a wheelchair, Wyatt slowIy transformed the music that was to become the group's third album, ending up at Rock Bottom, a brave, deeply ironic title for a work whose vivid, painful introspection and dreamy, musical landscapes have been compared to those of Van Morrison's Astral Weeks. "I was just relieved that I could do something from a wheelchair," Wyatt confesses. "If anything, being a paraplegic helped me with the music because being in hospital left me free to dream, and to really think through the music."

AT VIRGIN Records' suggestion - "because they had this English idea, that to exist, you had to have a single" - Wyatt recorded The Monkees' l'm A Believer and found himself on Top Of The Pops when it scraped into the Top 30. But the follow-up, a cover of Chris Andrews's Yesterday Man, was never officially released, because Virgin mogul Richard Branson thought it "a bit too gloomy". Wyatt grins at the memory.

1975's Ruth Is Stranger Than Richard was a jazzier, eclectic affair, "more a case of roping in mates in and using their stuff." The mates included exiled South African trumpeter Mongezi Feza, guitarist Fred Frith and oblique strategist Brian Eno, "with his toy machines, desperately hating jazz," Wyatt fondIy recalls. And then silence. "Remember, I started out as a drummer and became a singer, because that was the only thing I could do properly once I found myself in a wheelchair. l've never been a songwriter in the sense of doing it all the time. When I have enough ideas, I start working on them. There has to be a reason for each record I make."

The reason behind his re-emergence in 1980 with four double-sided cover-version singles was two-fold. Being chairbound knocked the idea of the musician's life of travelling on the head, but paradoxically opened up a broader worldview via books, television and, in particular, radio, as Wyatt voraciously tuned in to local, jazz and black music radio and further afield to stations over the globe. Inspired by his wife Alfie, depressed and angry about the continuing existence of apartheid and what he perceived to be the NATO powers' colonial attitude toward the Third World, Wyatt became increasingly politicised, which culminated in his joining the Communist Party.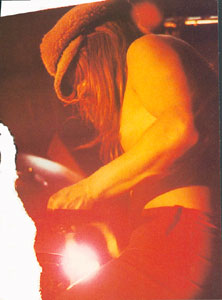 Wyatt drumming with Soft Machine. "It's
taken me this long to get over not being a
proper kit drummer. Now I enjoy the top half
of the kit."


"I wanted to be the kind of Communist that everyone moans about. I wanted to stick to the party line and see what I got out of it. I wanted to work more as a party member who happened to sing than a musician who was dragging politics into music. At the same time, I came to the conclusion that rock, as an alternative culture and threat to the old order, was becoming increasingly hard to take seriously."

Wyatt's covers were a fascinating selection from diverse cultural contexts but unified by a folk/ethnic base and spirit of resistance. Caimanera (or Guantanamera, as it is better known in the West), virtually Cuba's national anthem, and The Red Flag rubbed shoulders with an American a cappella tribute to wartime Russia, Stalin Wasn't Stallin', and a chilling version of Billie Holiday's Strange Fruit. Compiled to make 1982's Nothing Can Stop Us, and free of ego, fashion, patronage and sloganeering, the album is arguably the best political record yet made.

By this point, Wyatt had recorded the Animals Film soundtrack and relocated to the Catalan region of Spain, primarily because the light was better for Alfie's painting, but also as a necessary retreat from Blighty. Not that Wyatt could keep his distance. In 1983, he was back on Top Of The Pops with Shipbuilding, with its emotive, Falklands-inspired Elvis Costello Iyrics.

Complete with a smoky, jazz-trio arrangement, Shipbuilding was tailor-made for Wyatt's plaintive croon: "They sent me a cassette through the post because they thought l'd like a go, which I did. lt was brilliant of them to think it sounded like a Robert Wyatt song, and not to have met me and got it so right. I was very moved."

WYATT has always enjoyed collaboration. Working Week and Ben Watt and Michael Mantler were among his cohorts through the' 80s, plus Jerry Dammers and the SWAPO singers, with whom he sang 1985's Wind Of Change single, to spotlight the South African occupation of Namibia. The following month, Wyatt returned with Old Rottenhat, 10 of his own songs which exposed a multitude of sins, two being the SDP/Liberal Alliance and the US-aided repression of the Pacific island East Timor. But can political pop stars make a difference?

"Well, yes. For example, I think the Nelson Mandela concert contributed something to his release, though it didn't get rid of apartheid, which is still intact in economic and political terms. One of the reasons why I got involved in politics was that I didn't think art, or culture, was a hammer. I think artists take a much more modest role as witness. l'm just trying to make a much better news programme that the ones that keep buggering up my radio!"

Which brings us to Dondestan, recorded at the start of 1991 near his Lincolnshire home, he and Alfie having come back to England for medical reasons - "the Spanish don't know much about aging paraplegics and l'd rather be near those who are finding out!" Wyatt still manages to chuckle. And the reason for this burst of activity?

"Well, it's taken me this long to get comfortable with being a group by myself, and to get over not being a proper kit drummer. Now I enjoy the top half of the kit, and working out bass lines and a way to play them myself, to make the songs all a piece and in character. My trouble was that the word part of writing songs hadn't been oiled for a while, because writing letters or chatting is quite different to writing Iyrics, which have to be repeatedly heard. But it occurred to me that Alfie had written a bunch of poems when we were in Spain, about the reality of living in a holiday resort out of season, and the flotsam and jetsam of things in a disorientated place. So l've sung half a dozen of her poems and tacked on my usual right-on stuff at the end."

Dondestan is Spanish for "Where are they?". The title track namechecks Palestine and Kurdistan, while Lisp Service and Left-On Man both tackle colonialism. Wyatt starts grimacing for a change. "It's colonialism a-go-go. All political talk has been about East-West but l've always felt it was a NorthSouth split, which is the exploitation of the underdeveloped countries by the developed. And I got incredibly depressed by the bombing of the Basra Road during the Gulf War, when everyone was retreating, and all the euphoria surrounding it. I would like to be happier, to see news on TV liked, but I can't. I have to swallow it and then exorcise it."

What Wyatt can, and does, enjoy is his beloved jazz. And yet he doesn't make jazz music himself.

"No, l'm a gawping tourist of jazz, not a participant," he wistfully concludes. "Songs aren't really jazz. Jazz was my education, but the only thing that sounded convincing to me was what I do. l'm not a black American in Harlem, l'm an English bloke born in 1945, so if that's what I am and what I sound like, then that's what I should be doing. It's been a long process, finding my own voice."