The Softs, the Proms and drummer Wyatt - Melody Maker - September 5, 1970
By Richard Williams



It's NOT long since Robert Wyatt announced that he was vacating the drum stool with Soft Machine in order to pursue a career with Kevin Ayers'band and various other friends.

"I should know better by now," said Robert last week, shaking his head half in sorrow and half in happiness. "I say things , and I really mean them at the time, but a week later I'm feeling something else entirely.


" In all fairness to the Softs, they're still auditioning drummers, which is something I suggested because I thought they might find someone they like better than me, someone who can read music for one thing. Not reading is my thing . . . primitive music, y'know.

" But I really intended to leave the band, and I suppose I had to get outside it to find out what I really wanted. We had a few fights inside the band, but it's all back together now, and I don't want anything to break that very fine balance we've regained."

The Softs' recent Henry Wood Promenade Concert at the Albert Hall created controversy among the critics, who seemed to be expecting something the group were never prepared to give. Robert looks back on it with very mixed feelings.

" The whole business of surfacing for a couple of hours in that environment was to be heard by people who normally wouldn't listen to us in our normal context — and it was unnatural.

" I enjoyed parts of it, and the audience was certainly the biggest we've ever had in Britain. It was a very nice evening, socially speaking, and it was good that the audience seemed to enjoy the Terry Riley and Tim Souster pieces just as much as our stuff.

" We played all right, I suppose, and Elton particularly rose above the circumstances to play some excellent solos. In terms of the occasion, I'd say that all music grows up in a certain environment, and ours is loads of people lying around getting stoned, and we spend the first half-hour sorting out the sound balance so that the evening gradually opens out. At the Albert Hall, of course, that just wasn't possible.

" There was also the whole thing of playing to a deadline. It was very frustrating having to finish at exactly four minutes before 12 o'clock because if you run over that the engineers will pull out the plugs."

How did Robert view the motives of the BBC people who put the Softs on the Proms? " I don't honestly think the BBC had too much say in it. It was down to Tim Souster, who managed to get into the sort of position of respect where he was allowed to present his own evening, and as he was interested in our music he asked us to be part of it. I don't suppose the powers-that-be at the BBC knew what they were getting at all.

" Oh dear, I really don't want to sound sour and bitter about it at all. What I'm saying is that we've done a lot of gigs and the Proms doesn't stand out as one of the important ones.

" But I can also see that it seems to have been important in terms of public reaction . . . for a start, the little old ladies round our way used to think that we were a load of nasty, dirty hairies, but now they all say ' Good morning, Robert' very nicely.

"In the end, though, I can't honestly say that I feel it's important. Bridge-building isn't something that you can do consciously, it happens by accident, but it's nice that people can listen to and like something that they wouldn't normally come across. Anyway I don't consider that we're a bridge-building band. We're very narrow really, pursuing one train of thought.

" Elton's writing should make it a little different — but then, oh well, everything seems to go through the sausage mill and come out sounding like the Soft Machine."

Now that Robert is safely back inside the group, does he still harbour desires to get into other areas? " Well, one thing I'm doing right now is playing with my own quartet, which has Elton, Marc Charig on cornet, and Neville Whitehead on string bass.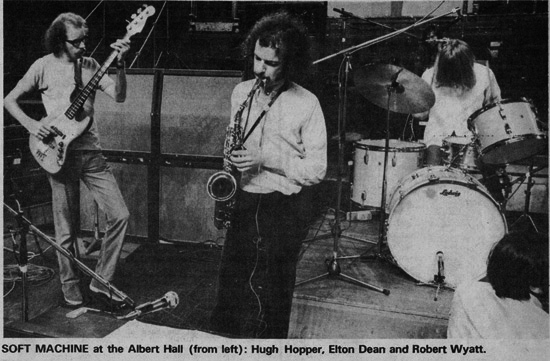 " We've already recorded a long, free version of Gil Evans' 'Las Vegas Tango' for my own album on CBS, and it's really a totally free thing. Maybe we'll get into doing our own versions of Soft Machine numbers — that would be nice, getting another angle on them with a flowing string bass line instead of the fuzz bass-guitar.

" With this band I'm trying to get some space back into my music. Arrangements, freedom, and all those different procedures can make satisfying music, which is very hard to define, but the actual effect is a certain kind of density.

" I admire the sense of space you get from ' Miles Smiles' or the Miroslav Vitous album; the density of rock bands can be very crude and unrewarding. So many things are happening in the quartet; I'm constantly playing things that I've always wanted to play but never been able to, and that's a result of the more fluid situation.

The experiment of working with Ayers and the Whole World was not a success, although Robert still has great admiration for the band. " I did two or three things with them in England, including the Hyde Park 'free,' and a week in Holland.

" I tried it, but I have this tendency to change my mind completely about everything. I still think it's one of the most amazing bands in the world ... oh dear, I'm unhappy about this interview — I'm saying all the things I mean.

" Kevin's band does tend to be a little ramshackle in its approach, and perhaps I've been spoilt by being part of a comparatively slick organisation for quite a long time. I really dig David Bedford though."

Robert's own album, which is nearing the mixing stage, is " hours of completely free things in various combinations, with all the unfashionable sound tricks that Zappa discarded five years ago and which I'm toying with right now.

" Hugh wants to get the Soft Machine into the studios to record very soon, and one of the best aspects of the band at the moment is the way Elton's got so involved in the music.

" He's even getting us to do things that we stopped trying to do to each other years ago, like getting me to read parts. The others completely accept that I'll never do it, but Elton keeps plugging away.

" It's really nice to see Mike and Hugh struggling with someone else's compositions for a change, instead of grinning evilly while I try and struggle through theirs."