Unclassifiable Soft Machine - Hugh Hopper talks to Bob Dawbarn - Melody Maker - November 8, 1969


Unclassifiable Soft Machine



Hugh Hopper talks to Bob Dawbarn


LAST WEEK in Paris, the Soft Machine were presented by the French government with an award.

Even the group seem a little vague about what exactly it was for.



"It was something to do with a section of the government called Leisure for Youth," bass guitarist Hugh Hopper told me. "They give awards for records in every field of music. I can't say what section they found for us, but there was a little note on the award which said we were for anyone over 12.



"Duke Ellington, apparently, was for everyone over eight so we are not sure how to take that."

The French Government certainly had a problem. The Soft Machine are utterly unclassifiable — their music has elements of jazz and straight music as well as the tougher forms of pop.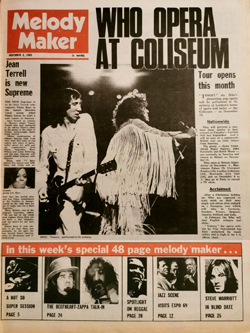 And now they have become a seven-piece with the addition of the front line of the Keith Tippett Group — Mark Charig (tpt), Elton Dean (alto) and Nick Evans (tmb) — and Lyn Dobson (tnr, flute).

"Although obviously they all have other gigs we are hoping it will be a regular front line," explained Hugh. "There are still technical problems over amplifying the saxes and getting everything balanced correctly. We've only been playing together two or three weeks but it certainly looks as though it is going to work out.

"It gives us the chance to bring out certain things in our music that we have been thinking about for some time, apart from having four extra solo voices. We had begun to feel rather restricted by the trio."
Free
I asked if the music was likely to become even more free.

"No, we were really freer in the old days," said Hugh. "We are now much more interested in arranging and use a lot of totally arranged passages.

"Fortunately our audiences seem to change too, they follow what we are doing and adapt. Mind you we have never worried about being commercial and have therefore never been tied down by thoughts of hit records and the rest of it.

"We are all writing in the group, though Mike Ratledge, our organist, does the greatest volume of stuff. We are also getting much more work abroad now — we have three weeks coming up in France and then a tour of Holland, Belgium and Switzerland in January. There is so much more money for us over there."

Though the group does not want labels attached to their music, Hugh agrees that it is a little odd to find them working largely in the pop field.

"We go out as a pop group, but there is little similarity between us and the pop world apart from that," he admitted. "Mind you, we all came up through pop. I spent some time in a soul band, for example. But, basically, the Soft Machine plan to make it commercially without making commercial music."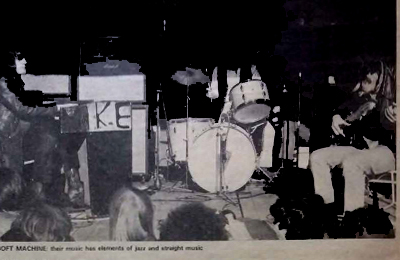 There is a growing mystique surrounding the group on the Continent. "They are more open to new sounds in places like Amsterdam than they are in Britain," explains Hugh. "They get much more enthusiastic. The English aren't an enthusiastic race — l know I'm not. We all tend to be a bit cool. The odd thing is that on the Continent they aren't interested in their own bands. Instead there is this strange mystique about British groups. Or Americans - there are plenty of black Americans there playing free music and earning a living. They couldn't do it here, nor, possibly, in America. The Swedes, for example, have always been receptive to the avant-garde music".



Future work for the Soft Machine includes the writing of seven hours of music for a new French TV series which Hugh describes as "a Eurovision thing about some fugitive type guy." The Machine will also be appearing in the series.

Prices
Hugh is already involved in commercials and says: "We would all like to get into incidental music and film writing."

Why change from a trio now?

"The simple answer is we haven't been able to afford it before," said Hugh. "Now we have sorted out our management thing and we have a lot of work on the Continent — and we are getting good prices. We had some nice powerful sounds with the trio but when playing for an hour on stage it gets a bit boring."

The new Soft Machine has already got one unusual booking — it will be playing opposite the Thelonious Monk Quartet at Ronnie Scott's on November 11 and 18.

Wide
"I don't know how the management will take our amplification," commented Hugh. "Or how Monk will, for that matter. But we are really looking forward to this one."

How wide, I wondered, was Hugh's own musical taste.

"Well, my favourite record is the Miles Davis-Gil Evans 'Sketches Of Spain', he told me. "Pop? I'd listen to somebody like the Cream, though I don't say I would buy their records.

"In fact the last record I bought was 'Uncle Meat,' the Frank Zappa thing. Really, Zappa approximates to what I like in the pop world."

Bob Dawbarn