My Top Ten by Robert Wyatt - Let It Rock - January 1975

MY TOP TEN BY ROBERT WYATT
First of all I have to make the point that I'm 29. I think everybody's stuck in their own age group to a certain extent, where their taste is concerned. People that I know tend to believe that the music of their adolescence is the most inspiring ever, and find music from before their own generation a bit boring, and music after it a bit trivial-childish.

Nearly everybody thinks that, although they rationalise it in other ways. The other point is I'm choosing ten records I like, but actually there are fourteen records that I like, so I've had to leave out four. The third point is that I've lost most of these records so I might have details of the titles wrong.



'Goodbye Pork Pie Hat' by Charlie Mingus is from an album called Mingus Ah Um on CBS (I think). This isn't offically a song - I don't know of any words for it - but it's very singable like a lot of Mingus tunes. However complicated his tunes are, when you know them, you can sing along with them. Also I can almost play it as well as sing it because, like many of Julie Tippet's songs, it's nearly all on the black notes on the piano. The Improvisations on this, which are by Shafi Hadi and Booker Ervin on saxophones, respect the tune - are extensions of the tune. People like Gil Evans and Mingus stand out from other jazz writers and arrangers because they integrate the improvisations of their musicians into their writing.
I should think it's easier for a musician to do that playing with Mingus than with most people, simply because Mingus tunes are so beautiful anyway.






Next bit I've chosen is the 'Piano Quintet' by Shostakovich. The string quartet part of this quintet, as far as I remember - as it's some years since I've heard it - play bowed muted strings; a very haunting sound. I like the idea of a string quartet anyway; in fact I enjoy the idea of a string quartet more than I enjoy a lot of string quartet music. In this case, perhaps, I liked it because the cello is often used rather in the way the double bass is used in jazz-i.e. not bowed but plucked; relatively simple rhythmically, as far as I remember. It's an incredibly melodic piece, which you must admit is a great achievement for someone who is, after all, only a brainwashed communist.






'Friday The Thirteenth' by Thelonious Monk. The particular version I have in mind is from the Town Hall Concert he did - the first main Town Hall Concert - where the arrangements were done by someone called Hal Overton. I think when Monk dies there'll be a rash of colour supplement potted biographies, little television programmes-arts programmes and so on, about him. 'The zany loony of the bebop world' is what they'll call him, no doubt. They won't do it till he's dead of course, in case he makes lots of money, which they probably think would be bad for him. In my opinion he's one of the greatest writers of tunes that I've ever heard, within my range of appreciation. The thing about this particular concert is that Hal Overton's arrangements are really imaginative. He's taken old recordings of Monk playing these tunes and written them out, including the solos Monk played, and orchestrated them for a large band. So you have the spontaneity of the improvised ideas strengthened by Hal Overton's inspired orchestration. 'Friday The Thirteenth' I particularly like because its got a secondary bass line which is sort of out of synch with the tune itself, and it sort of tilts the whole tune at a strange angle (If that sounds like Pseuds' Comer, I'm sorry , but that's what happens when you try and explain what you like about music).






'Epilogue' by Miroslav Vitous, from the album Infinite Search. Miroslav Vitous is technically in a class with Barre Philips, Stanley Clarke and Barry Guy. But as composer of music for the bass he is my favourite since Charlie Haden. Maybe his slavic origins have something to do with his particular melodic inclinations. On Infinite Search, the double bass - an instrument usually used in a subservient role - is the group's 'lead' instrument. The group - Herbie Hancock, John McLaughlin, Jack de Johnette and Joe Henderson - support Miroslav's lines with the accuracy, speed and imagination you associate with a first-class tennis match. Although the individual musicians are accustomed to working together in a live context, they are also accustomed to drowning out double-bassists, on the expedient premise that the loud instruments lead, the quiet follow. The recording studio can liberate musicians from this 'hierarchy by volume'. In this case, the effect of such energetic players pulling their punches to leave space for Miroslav to set the direction in each piece creates a fine, translucent texture, like a spider's web. Tennis matches, spider's webs - the whole world in a song, what more can you ask?






'Blues For Pablo' by Gil Evans and Miles Davis. This is from an LP originally called Miles Davis Plus Nineteen, which was Evans' first attempt to arrange a complete series of inter-related mini-concertos for Miles, who plays mainly flugelhorn in a bigband context. It's harder to play the flugelhorn than the trumpet, which tends to make even flugelhorn virtuosi like Clark Terry, Art Farmer and the great Johnny Coles play more carefully , thoughtfully than many trumpeters. As the title suggests, there is a certain similarity between the music of southern Spain and the early blues of the southern States, which Gil Evans exploits beautifully without using the obvious link instrument, the guitar. In fact Gil Evans was, as far as I know, the first 'jazz' arranger to supplement the traditional 'ethnic' dance band instruments with French horns, flutes and other instruments usually associated with the European orchestral tradition. Incidentally 'Blues For Pablo', like the other tracks on this record, is only a couple of minutes long, which demonstrates Gil Evans' roots as an arranger for 'pop' dance bands, and makes each individual piece nice and tight (if I'd been a radio DJ at the time I'd have pushed them as worthy competition to Sandy Nelson and Duane Eddy on the instrumental singles market).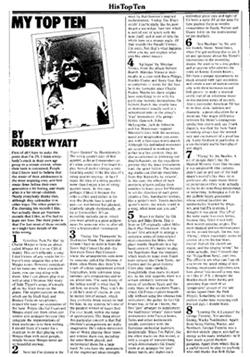 'Sex Machine' by Sly and the Family Stone. Sometimes, when I've got nothing else to do, I sit and speculate about Sly Stone's innovations in the recording studio. He used to be a disc jockey and as anyone who admires the work of Kenny Everett knows, DJs have a unique opportunity to muck around with tape recorders and create a sort of surreal continuity with their between-record link pieces - to make a musical entity out of an otherwise more-or-less random series of records. Also a successful American DJ has to be fast, slick, tasteless and dramatic - a great education for a musician. One major difference between Sly Stone's courageous production stunts and, say Frank Zappa's, was that the basic band recording always had the immediacy and excitement of a good live gig. Larry Graham in particular, is a spectacularly useful bass-player and singer.






'Flying' by the Beatles. A lot of people didn't like the Magical Mystery Tour film because it was amateurish (the cameras didn't dart in and out ot the lead singer's nostril's like they do in professionally made music films) or pretentious (they were actually trying to do something interesting): or something. Belonging as I do to the gullible hippy generation whose critical faculties are irredemably blunted by drugs, sex, and bad PA systems, I thought it was great. The LP of the same name was even better, because they filled it out with their recent amazing singles. The most magical and mysterious piece on the record though, for me, was Flying' which essentially seems to consist of a twelve-bar blues, except that all the chords are major, and the singing 'white'. So white actually, that it sounds like the 'Volga Boat Song', part two.
The effect is um what can I say oh you know the usual string of misleading, inadequate adjectives, um, how about 'this record is very nice so I like it'. P.S. I though the Beatles much more daring and inventive than most of us 'progressive' groups of the late sixties (apart from the Pink Floyd). Something to do with endless studio time replacing endless live gigs, I should think.



'Leaning On A Lampost' by George Formby. Yet another Daring, Wacky Northerner Apart from being Daring, Wacky, and Northern, George Formby was a shit-hot ukulele player, not half so stodgy as his many imitators - he'd have made a good rhythm guitarist. Apart from which this is a useful record to play to anybody who still thinks that Bob Dylan invented good lyrics. While I'm at it I'd like to mention Frank Crummil. Ahem, "Frank Crummit". Thank you.





''Hold On I'm Coming' by Sam and Dave. I vividly remember as if 'twere yesterday the day I saw the amazing Stax circus come to town. And best of all I
remember Sam and Dave striding on stage from either side and meeting in front of Booker T's gang all hammering away like it was the encore already-very exciting. Once again how can mere words convey etc. etc.
Goldie does a version of this song which apparently accentuates the title's erotic possibilities - more power to her, er, elbow and everything, I say; but nevertheless I doubt if her version matches the original in terms of pure musical excitement. On the other hand, there's probably no such thing as pure musical excitement-apart from The Old Grey Whistle Test of course.
The way Stax records were recorded made them perfect for discotheques rather than posh stereo systems etc, on which, like many good dance records e.g.
west-Indian dance records, they sound comparatively stark and dry. Conversely, many so-called "well-produced" records, when pumped out over a busy dance
floor, are about as helpful to dancers as a carpet of wet cement. I mention this because it's puzzling trying to work out why things are or have been popular, if you don't take into account the original context. I'd like to continue in this vein and discuss the amphibious life of the sea lion but I know enough about joumalism to know that you're supposed to stick to the point. So here's my last record.



'Get Out Of My Life Woman' by Lee Dorsey/Allen Toussaint. These two made a series of great singles, and if anybody's got a spare copy of the LP of this title they made together, I'll give anything except perhaps my right arm for it. I gather Lee Dorsey's not working as a singer any more, runs a garage or something. Never mind we've still got John Mayall. Toussaint belongs to the great tradition of musicians
from New Orleans with names thought up by a French Stanley Unwin. Some of my favourite of these voodoo-swamped names include Bechet, 'Slow-drag' Pavageau, Alphonse Picou, Barney Bigard, Joseph 'Zigaboo' on drums on this particular record but whoever it is ought to be famous. He saved my bacon, anyway, by
showing me a way to combine the triplet feel of the earlier swing bands with the more violent military-band-derived eighth note feel favoured in moderb rock circles. Now I hastily leave you to ponder the exact meaning, if any , of the phrase 'modern rock circles'.


La version française de cet article est parue dans le N° 8 de la revue Atem.