Human Nature - Jazzwise - Issue 113 - October 2007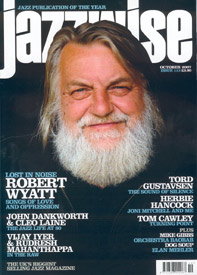 H

ow do you describe Robert Wyatt? Musician? Clearly. Song-writer?




That goes without saying. Activist? Fair enough. But beyond stating the obvious, it gets increasingly difficult to define what he does. As if bemused by their own appeal, his songs defy easy categorisation and yet their charms communicate across generations and genres. Robert has just signed with Domino, the hippest of young independent labels and home of the Arctic Monkeys, Franz Ferdinand and more oddball talents like Stephen Malkmus and Jim O'Rourke. Oh, and he's about to release his latest album, Comicopera.

Louth in Lincolnshire, where Robert and partner Alfie Benge live, is about 200 miles and three decades from London. Piles of books, records and musical instruments clutter their rambling Georgian house close to the town's centre. Photos, political posters and Alfie's art on the walls. In the hall two carrier bags full of paperbacks, unclear whether they are coming in or going out. Two lives lived to the full. Outside in Louth itself, Robert and Alfie seem well-known to the town's other residents.
In the local hippy shop, all patchouli oil, josticks and Indian prints, Robert chats with the owner, pointing me out to her, "This is Duncan, he's up from London to do an interview. I just thought I'd show him your lovely shop." And in the record shop, Off The Beaten Tracks, they quickly work out what I'm doing here, "Yeah, Robert comes in quite a lot, mostly to order CD's he's seen reviewed in Jazzwise."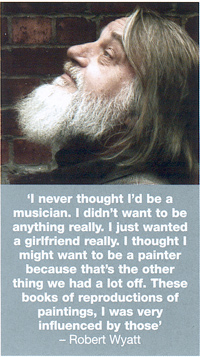 The sun is warm over Louth today and we chat over a sausage bun outside Stan's on the market. Robert had been at Ryko for years but a recent take-over led to sackings of trusted friends, people like Andy Childs whom they'd known since Robert had been on Rough Trade records.

If they really cared about the music they'd be pleased they'd got somebody like Andy. It just didn't feel right. So, we left and they were a bit surprised and a bit cross. But Alfie cleverly got it built into our contract that we weren't collateral for deals like that." Alfie took on the task of sorting out Robert's business affairs some years ago. "This wasn't by choice," she tells me. "This is by seeing how chaotic some things are and how Robert signs things that are not in his best interests. Like signing songs to a publisher, who's totally hopeless, for eternity instead of checking him out first."
I turn to Robert, who has a Stan Laurel-like look on his face: "You should have been a jazz musician, Robert". He laughs, "I've got the makings, haven't I? 'Jazzwise' being a contradiction in terms." "Yeah, technically and brain-wise," Alfie chips in. "I come from a long line of jazz musicians. Also, there's been quite a lot of crooks involved in Robert's life. It seemed sensible to keep it in the family but it's not my chosen metier. I find it really irritating."

Back at the house, I ask Robert if he minds if I take a couple of photos. "No, not at all," he says, "though I am having a bit of a bad hair life." I explain that I'm using two tape machines for the interview, as in the past machines have stopped working without my realising. It turns out such things have happened with Wyatt interviews before.

"The thing that's confusing for people, if they've had to do it again, is that for every question I have a completely different answer. So, it's very hard for them to sync up an interview. Like, 'How are the 60s?' 'Great!' 'How are the 60s?' 'Crap!' 'Are you happy?' 'Yeah!' 'Are you happy?' 'Am I fuck!' So, that was just a warning."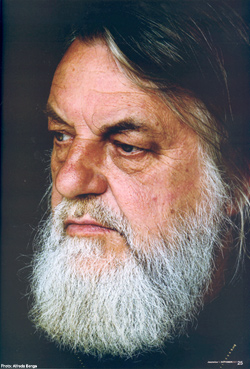 Robert's politics, however, remain more consistent. Like his albums they're intensely personal and derive from a strong moral sense. Anti-racist, due to his love of jazz and black music. Anti-imperialist and socialist, due both to his parents' example and to his own anti-racism. These values are steadfast and infuse Robert's songs, not in any crude agit-prop way, but because they arise naturally from the processes of contemplation and reflection. Is he glad to see the back of Blair? Obviously. But does he have any sense that Brown may be any better?

"Actually, I'm grateful that, by association, two of the most unpleasant Western prime ministers had to go. Tony Blair dragged them down with him. The whole of Europe breathed a sigh of relief at getting rid of fucking Berlusconi and the equally odious Aznar. So, thank you Tony for that. I don't like doing reverse personality cults. I agree with Tony Benn about that. But on an emotional level I feel slightly less ashamed having a grown-up going around talking on behalf of the British people as opposed to a prep school tosser.

But that's a personal opinion rather than a deeply political analysis."

Sometimes, it's only the laughing that keeps you from crying, isn't it? But somehow Robert, and Alfie, stay optimistic. Of course, the joy, energy and camaraderie that goes into the creation of a work like Comicopera must surely help. And the making of a Robert Wyatt album is a painstaking process. Much of it takes place at home. Though he's used other people to produce his records in the past, notably
Nick Mason on Rock Bottom and Clive Langer on Shipbuilding, Robert is essentlally his own producer these days. Advice, however, from Alfie, engineer Jamie Johnson and friends like Brian Eno and Phil Manzanera also feed in.

"Jamie Johnson is such an intelligent engineer that we can work as a team when I'm putting stuff together. Then I get a lot of vocal advice, and 'vocal' advice, from Alfie. Basically, consisting of, 'You could do that again, only better.' [chuckles] Actually, Alfie has ideas, like, 'why don't you try this?' or 'why don't you come in on that set of notes?' Nick Mason was great because he wasn't a professional producer. I asked him, partly in gratitude to the Floyd because they were so nice to us and because I thought that if anyone knows about sitting in a studio and getting a good sound out, it's got to be one of this lot and that turned out to be the case."

Actually, when Robert injured his back in 1973, the Floyd jumped in and did a couple of benefits at the Rainbow for him raising over ten grand to help out. They're still friends and it was in part a suggestion from David Gilmour, that encouraged greater emphasis on Robert's voice in the mix on Comicopera.

"Alfie used to get worried that my voice was getting lost in my own production of it. Aiso Gilmour said that. He said, 'People want to hear the voice.' Meaning he wanted to hear the voice. I thought, 'OK. You can hear it now'. But I also like it as just something else in there."




I suspect that the attraction of Robert's music, for artists as different as David Gilmour, Brian Eno, Elvis Costello, Paul Weller and Bjôrk, comes from the fact that there is no separation between the art and the man. It is that which gives it integrity, in both senses. As ever, songs off the new album, like the beautiful 'Out Of The Blue', don't grab the attention even where their Iyrics are at their most pointed. They sail into view and touch you even before you're fully aware and they still have that emergent, improvised quality of his best work. That, I'm sure, derives from his love of jazz and is why he chooses such strong players to interact with on his records. Trombonist, Annie Whitehead is there again, as are Gilad Atzmon and bassist Yaron Stavi as well as Orphy Robinson. All three have become crucial to Robert in his music.

He's known Annie since the 70s, having met through shared friendships with musicians like Mongezi Feza, Dudu Pukwana and Keith Tippett. "We actually recorded together the first time on a record Jerry Dammers put together - Wind of Change, on behalf of the Namibia liberation movement, SWAPO. I particularly liked the way she was listening to what everybody else was doing. She's just utterly lovable, very, very quick and got an awful Lot of soul."
Annie has also put together a group to play Robert's music, Soupsongs, which has played gigs in the UK and continues to perform in Europe. As for Gilad, Robert describes himself as a "sort of Gilad groupie" and he asked the saxophonist very hesitantly if he'd play on CuckooLand, his last album for Ryko. "He had no idea who I was or what I had done or anything like that. I realised he just loves to play. Whatever I'd asked him to do, if it involved playing, he'd have said, 'yes'. He was such a joy to work with. He was just such an enthusiastic collaborator and so fast at hearing what was required. Yaron Stavi and Gilad, I regard as like Sancho Panza and Don Quixote and I love them both. It's very hard to talk about people when it goes beyond professional admiration to that sort of kind of love and I have it for various people, Phil Manzanera and Paul Weller being another two but that's really that."

Singer, Mônica Vasconcelos, is another artist who appears on Comicopera and is heard to stunning effect on 'Out Of The Blue'. Robert has recently been working on the singer's new album.

"She got Alfie involved because she wanted to do more stuff in English and Alfie had a go at some words for tunes Steve Lodder and Dudley Phillips had written for her. I did a bit of singing on it and chipped in a few ideas. I think I was invited. [Long pause) Oh, god, I hope so. I think Dudley or Steve would...

Anyway that's the forthcoming Mônica Vasconcelos album and I really like her voice. It's so true. And I use her on a monicatron towards the end."

That's where Robert records somebody - Brian Eno, Karen Mantler or, here, Monica - singing all the notes of the scale. Then Jamie Johnson transfers it to computer and from there to keyboard, "So I have a keyboard of that person's voice and I can play chords of it. I love doing that. I tried it on my own voice but it was rubbish. It was all out of tune."

As far as singers go, Robert's own tastes are diverse. "I've been listening to stuff that was very dependant on the idiosyncrasies of the voice like Johnny Cash and Bob Dylan together. Like this ultrasmart, ultra-educated Jewish intellectual from the North and this pure moral, country boy musician and I find their friendship really moving for some reason. It's all in there with their record. I thought this is serious here."

Joni Mitchell is also important to Robert, as is Peter Pears (Benjamin Britten's partner), mainly because of specific qualities in their voices. "There's also people in jazz I like but I can't say they've influenced me. I find Betty Carter gob-smacking and I like musicians who sing sometimes in jazz. I like Dizzy Gillespie's 'Oo Bop Sh' Bam' stuff or Jimmie Smith doing 'Got My Mojo Workin", which is really kind of rough stuff."

I ask about Chet Baker. There's something in that wispy, waif-like sound that has parallels with Robert's voice.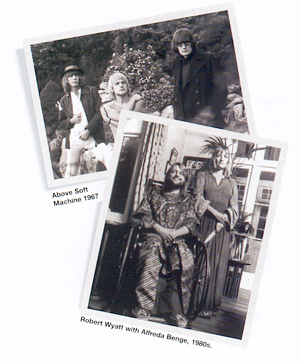 "Well, I suppose that's so built in. I mean Chet Baker's biggest influence on me is the fact that I really like this thing of a bit of vocal, a bit of trumpet and I think one of the reasons I took up the trumpet again was because I was so haunted by that thing of moving backwards and forwards between those two.
Although I can't play trumpet like a musician, I'm able to play it like a singer or at least like I sing."

And what about Billie Holiday?

"What I like most about her, it's a bit of a cliché, but what not to sing. What actually goes naturally with a voice and in her case if you've got good enough music around you just let it come through and just ride it like a yacht. And I really like her later stuff too. Jazz people say her voice had gone to pieces by then but as far as I'm concerned that's rock 'n' roll. What did they know? It's like late period Johnny Cash, it's got 50 much soul."

Robert never set out to be a singer, a fact that still guides his approach, as he tells me chuckling to himself. "I've got this completely negative approach to singing - try not to make too many mistakes, try to hit the right note, be grateful for that and move discreetly on to the next one." Early Soft Machine bootlegs, in fact, suggest that Robert had a pretty fine white soul voice.



An Evening Chat with Robert Wyatt takes place at the Purcell Room. London on 15 October.
"I really got into that classic English beat group thing which was taking black American records from Sue and Motown and replacing the backing they had with a more skiffle-based thing. That's what the English Beat Group scene really was, Black Music played by skiffle groups. And I was absolutely part of that and with the Wilde Flowers live gigs, that's what it was."

At the same time, however, Robert's father and mother were both great music lovers. The majorily of records they had were classical, though quite a few of those featured 20th century composers like Stravinsky, Ravel and Debussy who were inspired by jazz. It was a remark made by his father, that prompted Robert to start listening to jazz.

"My dad mentioned he really liked Duke Ellington and Fats Waller because he'd seen this seminally important film Stormy Weather, that celebrated black culture albeit in that sort of ersatz way. So, I got Duke's Such Sweet Thunder when I was 11 or 12, which he sort of approved of because it was a Shakespearean Suite, and I was off. I was just completely, as they say, blown away."

The other thing that Robert mentions as being important was his parents collections of art books. "I never thought I'd be a musician. I didn't want to be anything really. I just wanted a girlfriend really. I thought I might want to be a painter because that's the other thing we had a lot off. These books of reproductions of paintings, I was very influenced by those." It's there perhaps in the painterly attention Robert brings to his work but also in the collage-like impression his songs leave. It's entirely fitting that Alfie, herself an ex-student of art and film, brings those same skills to the covers and typography of a Wyatt record. "We are absolutely a team, me and Alfie. She has all these skills she acquired from art school and because she gets involved sometimes with the music and the lyrics and we do so much together, she's naturally part of everything I do. She's the one who really took control of how things are done, like cover art and presentation and typography.
Ever since Rock Bottom, she's been in charge of that. She's particularly conscious that now people can download, the whole thing should be worth having as an object.

The drums were obviously an early enthusiasm and Robert's first drum kit consisted of the usual mix of household objects, which he'd use to play along with Max Roach "Bit ambitious that'. His first proper kit, the cheapest Premier set he could buy, lasted him through his early professional career. He had lessons with a visiting American drummer and summers were spent on Mallorca living near Robert Graves, a friend of both Robert's parents. Graves' son-in-law owned the Indigo Jazz Club and Robert got to practise and even jam at the club. His first group with Kevin Ayers, Hugh and Brian Hopper and Richard Sinclair was The Wilde Flowers and when that disintegrated, Robert formed Soft Machine with Ayers and Mike Ratledge. Sharing the same management as the Jimi Hendrix Experience, the group toured the States with Hendrix. The downside of that was that Robert began to develop a big liking for alcohol and it was whilst under the influence that Robert fell from a window in June 1973 and ended up paralysed from the waist down. The upside, however, was that he learned a great deal personally and musically from playing America, not least from Hendrix's drummer, the sadly underrated Mitch Mitchell.

"Going from Beat group gigs to bigger gigs, Mitch really taught me a lot about how to handle that musically. In fact, he gave me his kit when the tour ended because he said, 'Robert, I can't bear the thought of you playing on that crap kit you've been playing'." Robert laughs his body quivering at the memory. He still has the kit. Both he and Mitchell shared an enthusiasm for jazz drummers, Elvin Jones and Tony Williams. "Me and Mitch used to listen to a particular track by Miles Davis with Tony on it, 'Stuff', but I've liked Tony Williams ever since he was with Jackie McLean. Elvin, we loved because the momentum and the weight of what he did was very useful information because of the volume at which rock groups played. He actually matched that sort of depth and volume of rock."

Inevitably, the shock of hearing Hendrix for the first time has stayed with Robert. "I still remember first hearing Hendrix get into gear in rehearsal. You just thought, 'What the fuck is that?' This sensaround thing of controlled feedback. There were people like Jeff Beck and to a certain extent Pete Townshend who were controlling feedback but this sustained landscape at a certain volume and absolutely controlling. It was blinding. It was like a great living, breathing river of sound."

There was opposition in some quarters to the Softs doing the tour but Hendrix supported them. "Some people thought, 'Soft Machine? They're not very poppy. He's playing stadiums. He's got hit records.' But I'm very grateful to Hendrix because he stuck up for us, and the band did, and Hendrix didn't like pop groups that much. He wanted people who were trying something different and didn't want people copying him. And, of course, we weren't. We were trying to do something else. He was very respectful about what we were trying to do and (laughing) very polite about our ability to do it. Real gent."

Though he's put in the occasional guest stage appearance with friends from Annie Whitehead to David Gilmour, Robert stopped doing gigs not long alter his accident. People would love to see him live, as he knows. "I feel a bit sheepish about it because normally the gigs are the promotion for the LP. The difficulty with gigs is that I don't really think like that. So much of what I do now depends on a kind of Beach Boys-isation of the voice, of double octaves and so on. It's all in the editing. I tried to do a sort of imitation of a live gig with Annie's band. A couple of songs came out all right. But I wasn't really comfortable and some of them were so not right and there was nothing I could do about it. I just don't have that kind of confidence to do it live in front of a band. I did drumming and drunk but voice and sober, it's just not going to happen. I don't have that chutzpah."

Maybe Domino and Robert's many friends might someday persuade him. It would be wonderful to see him do a short residency at somewhere like Ronnie's. Somewhere he'd be appreciated but also somewhere intimate, where the warmth of the man could come across. Till then, there's Comicopera and Robert's back catalogue to keep us happy.