DOWNBEAT - November 1994



Paul Haines - Darn It!
American Clavé - 1014/18

John Corbett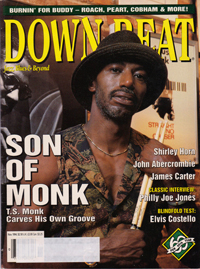 THREATS THAT MATTER; CURTSY; WHAT THIS Is GOING To SUPPOSE To MEAN; FUNNYBIRD SONG; OUTSIDE THE CITY; ART IN HEAVEN; RAWALPINDI BLUES; STICKS IN THE MUD; THERE AREN'T THESE THINGS QUESTIONABLE ALL OVER; LES PARAMEDICAUX ERO-TIOUES; JUBILEE; ON THE WAY To ELSEWHERE AND HERE; INEXPLICABLY; POEM FOR GRETCHEN RUTH; JUST WHEN I THOUGHT; THIS DEDICATION; THREATS THAT COUNT; WHAT THIS WAS GOING To SUPPOSE To MEAN; BREAKFAST; SNOW VARIATIONS ON DARN IT!; DARN IT!; ROUTE DOUBT; ASK ME IF You KNOW; THOSE SWEET BLUE OLIVES OF BOMBAY; HELLO; MRS. DRESSUP; THIRD WORLD Two MEDLEY; BREAKFAST (LATE); THE PLEASE FASTEN YOUR SEAT-BELT SIGN; TESTING TESTING; DARN IT! REPRISE (DowN IN BACK!); THREATS THAT CAN'T READ; C'ETAIT DANS LA NUIT. (46:56/50:23) Personnel: A cast of thousands, including John Tchicai, Jack Bruce, Carla Bley, Don Pullen, Derek Bailey, Robert Wyatt, Henry Threadgill, Marvin "Smitty" Smith, John Oswald, and Kip Hanrahan.

* * * *
Kip Hanrahan's most rewarding productions to date (Tete a Tete, Desire Develops An Edge) have caught vastly disparate musicians, singers, songs, styles, and genres in a giant spider web of Latin percussion. Darn It! is more like a strand than a web; it strings together an outrageous number of artists performing one after another in a polyglot line that stretches from Paul Bley's solo-piano "Threats That Matter" through funky dance numbers by Greg "Iron Man" Tate to a duet by trombonist Roswell Rudd and Canadian poet Paul Haines, "C'Etait Dans La Nuit." Even its beautiful package, designed by artist/filmmaker/musician Michael Snow (who also contributes a lovely piano piece) enforces the compilation's linearity, unfolding into a long accordion of personnel and poetry.
Haines is the through-line. His poetry has been the basis for other musical adaptations, such as Carla Bley's Escalator Over The Hill and most recently Curlew's A Beautiful Western Saddle. Highlights include Danish saxophonist John Tchicai with Andrew Cyrille ("Those Sweet Blue Olives Of Bombay"), Robert Wyatt's lilting voice echoed with soprano lines by Evan Parker ("Curtsy"), and John Oswald's music-box cut-up collage ("Funnybird Song"). Some links are tenuous, almost untenable, like the transition from Derek Bailey's gruff reading over guitar splinters ("Art In Heaven") to "Rawalpindi Blues." But for the most part, Darn It! overcomes stylistic impediments successfully, revelling in the way Haines' terse writing can endure so many different kinds of interpretation.
---