IMPROJAZZ - n° 143 - Mars 2008

Robert Wyatt - Comicopera - Domino (WIGLP202/WIGCD202)

Gary May




Des nouvelles de la planète Wyatt sont toujours les bienvenues, et voila le dernier tome disponible, pour notre plus grand plaisir, en CD ou en double vinyl. Qu'est-ce Robert a à nous dire, alors, depuis Cuckooland il y a quatre ans ? Heureusement, c'est toujours pareil, mais évidemment complètement différent. L'œuvre est composée de trois parties.
La première, 'Lost In Noise' est la plus intime, les paroles sont d'Alfie, sa compagne, sauf pour la toute première chanson, signée Anja Garbarek. Dans cette première partie on parle de perte, de confiance, des rapports entre hommes et femmes. L'émouvante poésie de A.W.O.L fait de cette chanson une sorte de cousine britannique des 'Vieux' de Brel.
La deuxième partie 'The Here And The Now' nous montre un Wyatt plus désenchanté et mordant. L'image bucolique de l'Angleterre tourne au vinaigre, les certitudes religieuses en tout genre sont appelées à se taire. Une phrase: 'It's a beautiful day' revient dans deux chansons, chaque fois de manière ironique et désabusée. Cette partie se termine avec la colère et l'incompréhension de quelqu'un dont la maison et la vie viennent d'être détruites par les bombardements anglo-américains. Entendre la voix de Wyatt clamer: 'Vous avez planté une haine éternelle dans mon cœur' fait froid dans le dos. Sans doute s'agit-il de l'une des plus puissantes chansons anti-guerre jamais écrites.
Puis, pour la dernière partie, Robert Wyatt l'Anglais s'en va. Tellement dégoûté par l'alliance infernale entre anglo-saxons dominants, il chante l'ailleurs. En espagnol ou en italien, peu importe, du coup on retrouve un peu de sérénité, de bien-être, de soleil. Un vrai 'beautiful day' à l'étranger. Robert semble avoir trouvé de vrais complices, car on retrouve ici beaucoup de ses collaborateurs de Cuckooland; Annie Whitehead, bien sûr, Eno et Manzera, Yaron Stavi, et les puissant saxophones de Gilad Atzmon. Un plaisir donc de retrouver Mr Wyatt, qui nous livre un disque complexe, dense, et coloré par toute une palette d'émotions. On n'est pas toujours à l'aise en écoutant son message, mais il faut lui faire confiance et l'entendre car derrière cet enfant peu sage se cache un homme d'une très grande sagesse.



---

FRIEZE - October 01, 2007

Comicopera - Robert Wyatt (Domino 2007)






That voice – a fragile tenor, lilting and dancing across archipelagos of consonant and dissonant notes, gliding occasionally to alto highs, diving to baritone depths. Words shaped by an unmistakably English crispness, frayed at the edges by a slight lisping and the trace of an unplaceable regional accent. Its timbre is dusty, as autumnal as golden leaves crackling underfoot, yet for all its world-weariness it still connects with the playful, liberated spring of youth. That voice – possibly one of the most distinctive in popular music of the last 40 years – belongs to Robert Wyatt, who returns this October with Comicopera, his first studio album since 2003's Cuckooland.
Comicopera is vintage Wyatt. Divided into three 'acts' – 'Lost in Noise', 'The Here and The Now' and 'Away with the Fairies' – the distinctly live-sounding album's 16 tracks bring together the quintessential characteristics of Wyatt's work. There is the jazz-inflected push-and-pull of plaintive melody and awkward harmony, the unusual arrangements, which put seemingly disparate instruments at ease in each other's company (for instance, the amiable chat of a steel drum, cornet and saxophone in 'On the Town Square'), and the lyrics, which, unshackled from the strictures of metre and scansion, effortlessly marry the political with the tender, funny and surreal.
Mournful clarinets open the album, like a passage from a lost Kurt Weill operetta, heralding Wyatt's version of Anja Garbarek's 'Stay Tuned', in which Wyatt requests we 'stay tuned/there is more to come/oh don't start searching/I'll get back to you'. 'Just As You Are' follows; the wry lyrics heavy with experience, it is the closest the album gets to a traditional ballad. Co-written with Wyatt's wife, Alfreda Benge, and performed as a duet with Monica Vasconcelos, it's a torch song of sorts, a plea for lovers to accept each other's idiosyncrasies – in Wyatt's hands beautifully poised between the unsentimental and the utterly heart-rending.
As Comicopera unfolds through the jazzy atmospherics of 'You You', 'A.W.O.L.' and the whimsicality of 'A Beautiful Peace' (which opens with Wyatt observing items at the side of a road; 'Oh look, there's a dead rabbit, all flat … What's that in the gutter? It's one of those polystyrene boxes, with chips in … obviously he didn't want to finish the chips. That's unusual.'), the mood darkens, the lyrical content becoming more explicitly political. 'Mob Rule' describes a government's duplicitous push towards conflict, while in 'A Beautiful War' and 'Out of the Blue' (which features Brian Eno's sampled voice played on a keyboard) Wyatt respectively assumes the narrative roles of bomber plane pilot and his victim. The album's final act is sung entirely in Italian and Spanish, the reason, according to Wyatt, having 'to do with feeling completely alienated from Anglo-American culture at that point. Just sort of being silent as an English-speaking person, because of this fucking war.' Comicopera closes with 'Hasta Siempre Comandante' – a Latin rumba that lifts the gloom before evanescing into an ether of noise and sonic texture.
Wyatt's career began as a drummer with psychedelic pioneers Soft Machine and Matching Mole, before a fall from a third-floor window in 1973 left him paraplegic. The accident marked the beginning of Wyatt's solo career: a dozen or so incalculably influential albums followed, made in collaboration with such luminaries as Eno, Fred Frith and the late and much-loved Ivor Cutler. If anyone comes close to being a 'living treasure' in British music, it's Wyatt, not least for his down-to-earth understanding of music's role as an integral part of our daily lives. 'Music isn't an abstract pleasure,' says Wyatt, 'it is company. Why I like Duke Ellington and Charles Mingus – the Big Bands – is because every character in the band is identifiable as that person – there's this group of humans in a room.'



---

THE TELEGRAPH - October 18, 2007

Comicopera - Robert Wyatt (Domino Records)

Robert Wyatt : Child-like charm of a pop survivor.
Andrew Perry talks to the much venerated Robert Wyatt.

Andrew Perry




"It feels funny, Robert being so venerated," Robert Wyatt's wife, Alfie, tells me, as she ferries me from Market Rasen station to the couple's house in Louth. "I mean," she adds, "he's such a child!
" Ever an intriguing figure in British rock, if never a mainstream one, Wyatt has come to be seen as something of a national treasure in later life. He is best known for his cover of Elvis Costello's Shipbuilding from 1982, which relayed a savagely bitter picture of exploitation of soldiers and dock-workers in the Falklands War.
His sporadic album releases, tinged with jazz, folk and an almost extraterrestrial beauty, have prompted a Mercury Award nomination here, a Meltdown Festival curatorship there, and no end of favourable media coverage.
This month, at sixty-two, he shows a rare ability to cross generational boundaries with Comicopera, his debut release for Domino Records, home to such hip young chart-toppers as Arctic Monkeys.
Though there has always been a child-like openness in Wyatt's high-pitched, conversational singing voice, I am still a little anxious about meeting a man who has never hidden his often extreme political leanings.
After leading me through to the front room, however, he talks engagingly about his latest batch of songs. Most were written on the baby grand piano behind him, and embellished using the brass and percussion instruments scattered underneath.
Fittingly, given its homespun genesis, the album kicks off with songs about domestic conflict. Several were co-written with Alfie (her full name is Alfreda Benge), whom Wyatt calls "the dark side of my moon".
One, Just As You Are, was composed in Kilburn, at Phil Manzanera from Roxy Music's studio.
"Brian Eno dropped by," he recalls, "and said, 'Let's write a country song.' For that type of music, we worked out that the lyrics had to be very straight-talking - no deviousness, no irony, straight from the heart.
"Alfie wrote this stuff about her exasperation with me drinking in the daytime and trying to get away with it. She'd been wrestling with this for some time, and out it came."
The finished piece is anything but generic country, marked instead by Wyatt's downbeat, jazzy piano chords, and with his wife's accusations sombrely yet exquisitely intoned by the Brazilian singer, Monica Vasconcelos. Wyatt, meanwhile, has since sobered up.
For all the heavyweight subject matter, it's the most sublimely melodic album of Wyatt's career. The accessibility, he believes, comes from his collective attitude, whereby illustrious guests from the rock world such as Eno or Paul Weller are gathered alongside jazz and world musicians.
"For me," he says, "music is company. I like the idea of the record as a meeting place, where friends wander in and out."
Wyatt rose to prominence in the hippie era, as the drummer with prog-rockers, the Soft Machine. In 1973, he fell from a window during a party and broke his back. In hospital, he mapped out his first solo album, Rock Bottom, which he released the following year, to great acclaim, on the day that he married Alfie.
Since then, wheelchair-bound, he has ducked in and out of the shadows, pursuing his own curious pan-global muse.
The beating heart of Comicopera is an instrumental track called On The Town Square, on which Gilad Atzmon, a tenor saxophonist of Middle-Eastern extraction, plays alongside the Afro-Caribbean-flavoured steelpans of Orphy Robinson.
Wyatt's community-mindedness becomes apparent when he leads me around Louth to spend money in his favourite shops. I begin to see the child that Alfie spoke of, as Wyatt wheels himself precariously through the middle of the road back to the house, waving at oncoming traffic. His idealism, too, is boyish, energetic, fabulous.
"I love sitting in the town square here," he tells me, "by Stan's Van. Stan puts out a couple of tables and dispenses cups of tea for 40p, and wonderful sausage sandwiches. All kinds of people come past. There'll be the woman from Oxfam, who goes on hunts, sitting next to a biker. And we all find things to chat about.
"That feeling I like" - he smiles, yes, rather like a child - "and in music, too: real people with their own turn of voice, all joining in, in their own way."



---

POP NEWS - Novembre 2007

Comicopera - Robert Wyatt (Domino/Pias)

Vincent Arquillière




Saison faste pour les chanteurs sur roulettes : après un nouvel album inespéré de Vic Chesnutt, que l'on peut raisonnablement considérer comme l'un de ses tout meilleurs, c'est à Robert Wyatt, lui aussi cloué depuis de longues années dans un fauteuil, de nous donner de ses nouvelles, quatre ans après "Cuckooland". Malgré la simplicité, l'humilité et la gentillesse de leur auteur, les disques de l'ex-Soft Machine ont toujours quelque chose d'un peu intimidant. La musique qu'ils contiennent ne peut se concevoir et s'apprécier que dans un rapport intime avec l'auditeur, mais, du fameux "Rock Bottom" (1974) à ce "Comicopera", ils paraissent souvent si intimes, justement, qu'on a presque peur d'y entrer, comme si on risquait de déranger. Il faudra encore cette fois-ci plusieurs écoutes attentives (mais peut-on écouter autrement un disque de Robert Wyatt ?), le temps notamment de se réhabituer à cette voix aussi blanche, exténuée et bouleversante que celle de Chet Baker, pour faire le tour de cette heure de musique et estimer qu'il s'agit une fois de plus d'un chef-d'œuvre – à croire que son auteur ne sait de toute façon pas faire autre chose.
En trois actes (intitulés "Lost in Noise", "The Here and the Now" et "Away with the Fairies" – comme pour le titre de l'album, toutes les interprétations sont possibles…), le Grand Schtroumpf de Louth (Lincolnshire) nous parle de lui, de l'Angleterre et de l'état du monde, interprète aussi bien Garcia Lorca qu'Anja Garbarek, revisite ses genres de prédilection – jazz plus ou moins free, rock progressif, chanson populaire, musiques latines – en les fondant dans un idiome qui n'appartient qu'à lui. Les complices habituels – Brian Eno, Phil Manzanera, Paul Weller, et bien sûr sa muse Alfie Benge – sont au rendez-vous, et l'on retrouve avec un émerveillement renouvelé ces harmonies venues d'ailleurs et ces effets sonores qui ouvrent des abîmes d'étrangeté. Le deuxième acte de "Comicopera" se conclut par un "Out of the Blue" à la colère rentrée, celle d'un Palestinien bombardé qui s'exprime à travers la voix de Wyatt : "You have planted an everlasting hatred in my heart" ("Vous avez planté une haine éternelle dans mon cœur"). Suit une dernière partie d'une éblouissante liberté formelle, où le chanteur abandonne l'anglais pour l'italien et l'espagnol. Trente-deux ans après "Ruth Is Stranger Than Richard", qui se refermait sur le "Song for Che" de Charlie Haden, Wyatt rend de nouveau hommage au fameux guérillero en terminant "Comicopera" par une reprise du non moins fameux "Hasta Siempre Comandante". Quoi qu'on pense du Che et des idées politiques de l'artiste, sa version est exceptionnelle : à la fois respectueuse des racines cubaines de l'original et totalement personnelle, à mille lieues de l'exotisme frelaté trop souvent attaché à ce standard, elle offre un résumé parfait du disque et, au-delà, de l'art poétique d'un homme pour qui le message ne prendra jamais le pas sur la musique.



---

THE WIRE - N° 284 - October 2007

Comicopera - Robert Wyatt (Domino CD)

David Stubbs




"I don't think beforehand, I think afterwards. I find that plans ahead, concepts, limit you," says Robert Wyatt. Which is a little strange, given that Comicopera, divided as it is into three acts, feels decidedly conceptual. It ranks, however, among his finest achievements - indeed, it embraces all of the key themes of his career, ranging in mood from the amiably whimsical to the plaintively despondent, from private joy to political rage.

He's surrounded by old friends here, which could be a recipe for self-indulgence but in this case lends a warmth, a communitarian feel to Act One in particular. Annie Whitehead, Brian Eno, Phil Manzanera, Paul Weller and Gilad Atzmon are among those assembled. On the Anja Garbarek "Stay Tuned" there's a candlelit, vigil-like feel, with all of the musicians breathing as one, pulling in the same direction, no one breaking away from the cuddle. "You, You, You", co-written by Wyatt's partner Alfreda Benge, is a touching paean to interdependence, a hark-back to 1974's Rock Bottom, with Wyatt contributing muted, amateur but eloquent phrases on a cornet.

Act Two sees a shift in mood. It's an altogether jollier affair, with tracks like "On The Town Chair" and their cheerful gait threatening to revert into "Soup Song" from Ruth is Stranger Than Richard. However, like the blazing summer of 1914, this is a misleading prelude, for next cornes "A Beautiful War", with Wyatt as narrator assuming the role of the bomber. Act Three sees Wyatt refuse to sing in the English language, as a protest against the UK's involvement in the Iraq war. (This, after all, is the man who once said that his political inclination was to be a traitor.) The likes of "Del Mondo" and "Hasta Siempre Commandante" are more unravelled in their arrangements, more new jazzy in feel, reminiscent of Charlie Haden's Liberation Orchestra in their internationalist tone. Orphy Robinson's vibraphone solo on "Pastafari" is one of the section's towering moments of terrible beauty, pluming above the fray.

A superb album, in which Wyatt gathers all of his strengths, with the personal and the political, the aesthetic and the ethical are brought together as only he can.



---

JAZZWISE - N° 113 - October 2007

Comicopera - Robert Wyatt (Domino WIGCD202P) ****

Duncan Heining



Comicopera is like meeting an old friend. Conversation begins immediately where it last left off. What's new? How you been? Has it really been that long? No, really? Shame about so and so. It's not that nothing has changed. Static friendships die. The capacity to accommodate difference and change that revitalises the friendship. There are new influences and new songs. There are life-changing events. New loves and old ones rekindled. Life happens somewhere between comedy and tragedy - Comicopera. Robert Wyatt, his partner Alfie Benge and their comrades understand this well. There's observational comedy in 'A Beautiful Peace' and 'A Beautiful War', romantic comedy in 'Just As You Are' and slapstick in Orphy Robinson's 'Pastafari'. We feel pity and loss for Hattie in 'A.W.O.L.', while Richard Dawkins pops up cartoon-like on 'Be Serious' There's solidarity with the oppressed in 'Haste Siempre Comandante' and in Robert's setting of Lorca's 'Cancion de Julieta' and righteous anger in 'Out Of The Blue'. We shared those thoughts and those emotions and then we danced together. Oh, how we danced to 'On The Town Square'. And then we laughed and laughed again, as if we were the very last ones to get the joke of 'Anachronist'.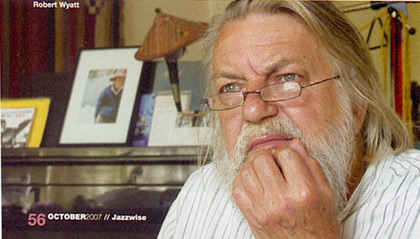 ---

JAZZMAN - N° 142 - Janvier 2008

Comicopera - Robert Wyatt
1 CD Domino WIGCD202P - distribué par PIAS ***

Féerie



Pierre de Choqueuse



Certains lecteurs trouveront peut-être cette chronique déplacée, avançant que la musique de Robert Wyatt relève d'un autre genre que le jazz. Lequel ? Bien malin qui peut répondre. L'ex-batteur de Soft Machine construit disque après disque son propre univers musical et, depuis son accident, pose sa voix très pure au centre de son œuvre. Opéra de poche en trois actes et seize chansons, "Comicopera", son premier vrai disque depuis 2003, fait rêver, envoûte comme un charme puissant. Musiques et langues s'y télescopent. Fraîches comme l'eau d'une source, les mélodies portent les couleurs du jazz, du rock et des îles lointaines. Ce n'est pas son meilleur opus. L'atmosphère s'assombrit au fil des plages. Sa poésie le rend pourtant inoubliable.


---

ROLLING STONE - N° 156 - Oktober, 2007

Comicopera - Robert Wyatt

Jörn Schlüter



Wut statt Nostalgie: Der Weise skizziert in drei Akten die Gegenwart

Seit einigen Jahren vollenden sich für die Veteranen des Swinging London viele Kreise. In den Sechzigern angekommen, erinnern sich die Männer von damals an ihre beste Zeit und an jene Momente, die das eigene Lebensgefühl konstituierten. Full circle, das heißt hier: sich aufs Wesentliche, nämlich die Freundschaft und das Gemeinsame, besinnen. David Gilmour macht eine nostalgisch versunkene Platte mit Phil Manzanera, Roger Waters spielt ausnahmsweise mit Pink Floyd, Brian Eno sucht die Nähe der alten Kumpane. Robert Wyatt ist immens wichtig für diese Selbstvergewisserungen und tief empfundenen Klassentreffen und steht immer ganz oben auf der Liste, wenn die genannten Akteure im Miteinander Trost und Identität suchen. Nun hat Wyatt eine Plätte gemacht, bei der es um dieselben Dinge geht, und natürlich konnte er auf die Hilfe von Eno, Manzanera, Paul Weller und anderen Freunden zählen.
Wyatts Musik, hier auf drei Akte aufgeteilt und mit der üblichen spontanen Intuition aufgenommen, ist freilich nicht nostalgisch - dafür lebt Wyatt viel zu sehr im Moment und ist dem offenen künstlerischen Prozess verpnichtet. « Comicopera » handelt also davon, miteinander zu leben, den anderen wahrzunehmen und den chaotischen Fluss des Lebens insgesamt zu akzeptieren. Die frei entworfenen, oft ungemein intensiven Skizzen, der psychedelische Grundton, die abstrakten Holzbläser-Wolken, das expressive Nichts, der angetäuschte Jazz, all das kommt in der Gegenwart an wie eine Botschaft aus vergangenen Zeiten. Mehr als seine Kollegen ist Wyatt ein lebendes Relikt, der weise Alte aus dem Wald von Canterbury, der den künstlerischen Ausdruck der naiven Mittsechziger-Avantgarde konservieren konnte. Man braucht nur die ersten zwei Lieder, das flächig floydianische « Stay Tuned » und das zärtliche « Just As You Are », um das zu verstehen.
Am Schluss, im orchestralen, atonal dräuenden dritten Akt, wird aus Wut auf Italienisch und Spanisch gesungen — es geht um den Krieg und die britischen Kriegstreiber, die dogs of war, die Wyatt natürlich hasst, insbesondere vor dem Hintergrund des auf « Comicopera » gewählten Sujets. Ein Menetekel.


---

LES INROCKUPTIBLES - 2 octobre 2007

Robert Wyatt - Comicopera
Domino - Pias

Richard Robert



Dans la musique populaire, la coutume veut que les chansons d'amour et les chansons engagées ne soient pas rangées dans le même panier : elle réserve la poésie aux cœurs tendres et la politique aux esprits bien trempés. Comme souvent, la coutume a tort, et Robert Wyatt, qui s'emploie depuis quarante ans à faire vaciller nombre de certitudes, est encore une fois là pour le rappeler. Au milieu des années 60, alors qu'il jouait au sein de Soft Machine, l'Anglais refusait déjà d'être un homme coupé en deux : il ne voulait pas choisir entre sensation pure et réflexion aiguisée, pas plus qu'il ne voulait trancher entre son amour pour la mélodie et son goût pour la recherche sonore. Des dérives solitaires de Rock Bottom (1974) jusqu'au grand chantier collectif de Cuckooland (2004), sa carrière solo n'a cessé de défier les lois de la pesanteur musicale, tout en brouillant les frontières entre songe et réalité. Cloué sur un fauteuil roulant depuis un accident survenu en 1973 (il se jette d'une fenêtre au milieu d'une fête copieusement arrosée), Wyatt est devenu à la fois un observateur pénétrant de son temps, dont le cœur ancré bien à gauche se soulève régulièrement devant les infamies de toutes sortes, et un contemplatif en quête de hauteur, toujours prêt à s'envoler dans les vastes sphères de l'imaginaire. Aujourd'hui, dans Comicopera, son propos gagne encore en ampleur. Entouré une nouvelle fois de fidèles (Brian Eno, Phil Manzanera et Paul Weller, mais aussi la chanteuse Karen Mantler, la tromboniste Annie Whitehead ou le saxophoniste Gilad Atzmon), Wyatt explore dans les grandes largeurs un langage musical qui synthétise son intérêt pour l'harmonie classique, son penchant pour l'improvisation et le swing, et cette sensibilité mélodique à fleur de peau qui en fait l'un des songwriters les plus touchants de sa génération. De sa voix flûtée, il réussit à unifier et à éclairer un disque qui est aussi touffu dans le fond que dans la forme. Découpé en trois actes, Comicopera commence en effet par un bouquet de chansons sentimentales, qui se penchent avec délicatesse sur la mécanique complexe et fragile des relations amoureuses. Il se poursuit avec un tableau saisissant du chaos mondial (avec le désastre irakien pour toile de fond) et s'achève sur une longue bouffée d'onirisme pur, forcément libérateur. Telle est la morale de Robert Wyatt : on ne peut vraiment habiter ce monde qu'en se confrontant à la réalité et en se réservant à tout moment le droit de s'en détacher.


---